Recipe: Poulet à la Normande
Posted on 11/13/2018 12:00:00 AM in The Buzz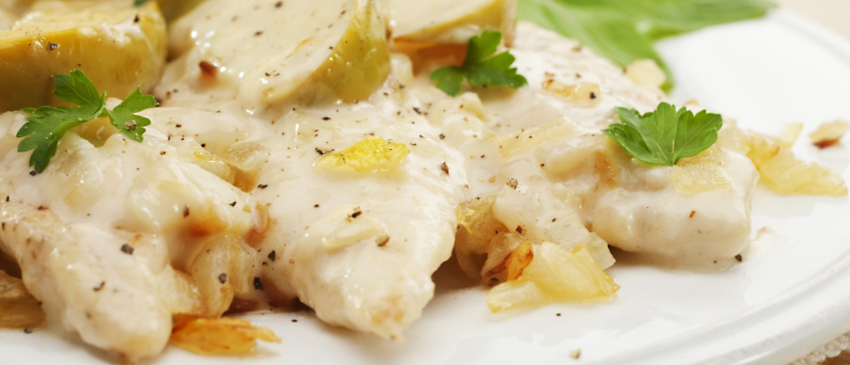 Normandy is a food lover's dream, known for fresh seafood, rich meat dishes, and some of the world's greatest cheeses. But of all the prized local ingredients, the apple reigns as rei. Throughout the Norman countryside, you'll find not vineyards, but orchards. With more than 800 varieties to choose from, you'll see apples in every section of a Norman menu, from spirits to sweets to savory dishes.
This traditional chicken dish celebrates the apple in three forms: the fruit itself, cider, and Calvados brandy. True Calvados is made only in Normandy, distilled from Norman cider and aged in oak casks for a minimum of one year. Named for the region in which it's produced, the spirit received coveted AOC (Appellation d'Origine Controlée) status in 1942—but its history dates back more than 500 years. Its popularity has ebbed and flowed, booming in the late 1800s when a phylloxera blight ravaged France's vineyards, only to shrink back into relative obscurity due to wartime austerity measures. A 1980s cider trend brought Calvados back into the limelight, where it has remained ever since.
While Calvados makes a great digestif at the end of your meal, sipping it during a multi-course affair just might make dinner last longer. The French believe the spirit revives both the palate and the appetite, creating a phenomenon known as le trou Normande—or, "the Norman hole," which literally makes space in your stomach for the rich courses to follow. Regardless of the scientific proof behind this claim, a shot or two along the way will certainly liven up the party.
Poulet à la Normande (Chicken Normandy)
4 Tbsp butter, divided
2 apples well suited for cooking, such as Honeycrisp or Fuji, peeled and sliced
Flour
4 whole chicken legs, with thighs
Salt and pepper
1 large onion, peeled and sliced into wedges
1/2 cup Calvados or other apple brandy
2 cups fresh apple cider
1 tsp chopped thyme, fresh or dried
1/2 cup crème fraiche or heavy cream
Preparation:
Preheat oven to 375 degrees Fahrenheit. Heat 2 Tbsp of the butter in a large oven-proof pan over medium heat. Add apple slices and sauté until lightly browned, turning occasionally. Sprinkle with salt. Remove from pan and place on paper towels to drain.
Season chicken with salt and dredge in flour. Add the remaining butter to pan. Fry chicken over medium-high heat until golden, about 3-5 minutes per side. Remove from pan and set aside.
Add onions to pan and sauté, stirring occasionally to scrape up the browned chicken bits, until beginning to brown, about 5-8 minutes.
Add brandy and boil until reduced by half, using a wooden spoon to fully deglaze pan.
Add apple cider and return to a boil. Add thyme and a pinch of salt.
Arrange chicken on top of the onions with skin face-up, careful not to submerge. Place in the oven and cook, uncovered, for 30 minutes.
Remove pan from oven and remove chicken from pan. Place pan back on the burner over high heat. Add apples and boil until sauce is reduced by half.
When sauce has thickened, reduce heat to low and add crème fraiche or cream. Season to taste with salt and pepper.
To serve, divide apples and onions between 4 plates and top with chicken. Spoon sauce over the top.
Serves 4
Savor all things apple when you explore Normandy with Grand Circle Cruise Line during The Seine: Paris to Normandy.