Recipe: Potato & Sauerkraut Soup
Posted on 9/18/2018 12:00:00 AM in The Buzz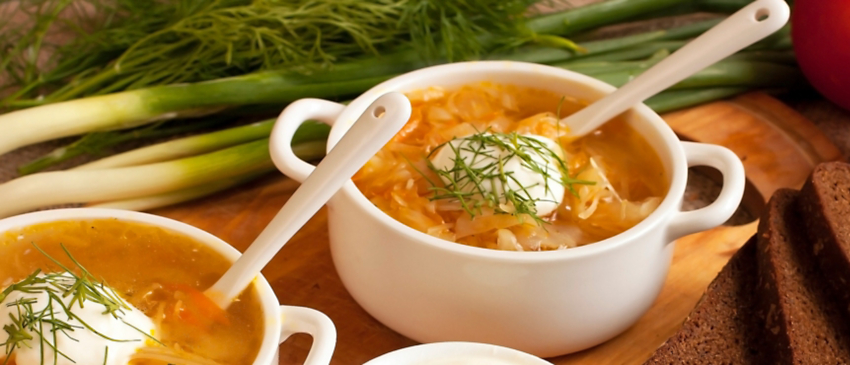 If you think of France as a sort of star shape, its easternmost ray is Alsace. To the west of Alsace lies the Lorraine, the two northern regions together providing France's border with Germany—which is more than just a neighbor to them. Once known officially as Alsace-Lorraine, they were formally part of Germany for many years, after they were annexed following the Franco-Prussian War. The combined territory sprawled from the west bank of the Rhine River to the upper Moselle Valley north of the Vosges Mountains. Germany desired the region because so much of the population already spoke its language, even though the laws and many of the cultural traditions were French.
Though both regions have returned to France as distinct entities, the influence of their German heritage may still be felt in their architecture and culture. Yet while many travelers think of the regions as near twins, they each have their own unique spin on Franco-German flavor as well, which is perhaps clear in their kitchens.
Alsatian cuisine is more heavily Germanic, with a love of all things pork, and an even deeper embrace of sauerkraut, here better known as choucroute. "Sour cabbage" is served with all kinds of meat or fish, but the most popular presentation is choucroute garnie, which means the sauerkraut has been "dressed up," cooked with Riesling wine, juniper berries, onion, and garlic, and then accessorized with three kinds of sausage, slices of smoked or salted pork, and potatoes. Its ingredients are humble but when presented together, the meal feels like a grand occasion. For home cooks wanting a simpler, one-pot meal that draws together the highlights of that dish, Alsatians turn to a hearty stew of bacon, potatoes, and sauerkraut.
Alsace Potato and Sauerkraut Soup with Bacon
Ingredients:
2 small white potatoes, cubed
1 Tbsp butter
1/4 medium onion, chopped
2-3 slices bacon, cut into one-inch pieces
1 garlic clove, minced
1 cup sauerkraut
1 tsp paprika
1 bay leaf
1/8 tsp cumin
5 cups vegetable stock
1/8 tsp salt
Dash of pepper
1/8 tsp marjoram
1-2 sprigs of fresh parsley, chopped
1/2 cup sour cream
Instructions:
Before you begin, cook the cubed potatoes: In a saucepan, cover the potatoes with cool water, bring water to a boil and cook ten minutes. Set aside.


Heat butter over medium heat in a Dutch oven or similarly deep stock pot. Add onions and cook until translucent and then add bacon, cooking till bacon begins to brown.


Add garlic and sauerkraut, stirring to coat, and sauté a few moments more, before adding paprika, bay leaf, and cumin, stirring all together until fragrant. Add the stock and bring to a boil. Reduce heat to a simmer and cook 10 minutes.


Add the salt, pepper, and marjoram, followed by the cooked potatoes, and simmer ten minutes more. Ladle into individual bowls and garnish with parsley and a spoonful of sour cream.
Serves 4-6
Discover the blend of cultures where France and Germany meet when you join Grand Circle Cruise Line for Romance of the Rhine & Mosel.