Recipe: Pho Fundamentals
Posted on 6/6/2017 12:01:00 PM in The Buzz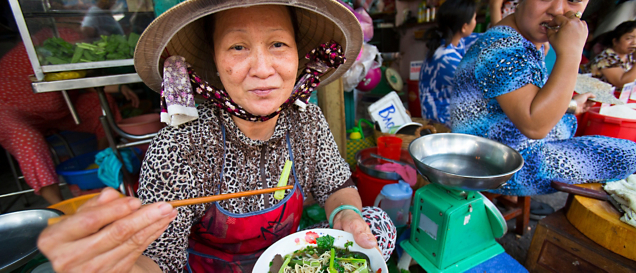 Vietnamese pho has only been around for about 100 years, but its popularity has grown immensely in that span of time.
Pho (pronounced "fuh")—a heady concoction of perfectly-seasoned broth, meat, rice noodles, and a variety of optional herbs and condiments—is so identified with Vietnamese cuisine that it's easy to assume that the soup has roots as ancient as the country itself. But in truth, pho is a relatively recent invention, first appearing in Northern Vietnam just over 100 years ago.
In the early 1900s, peddlers in the textile markets of Hanoi would walk the streets with a carrying pole over their shoulders, balancing two wooden cabinets. One housed a fragrant pot of beef broth over a small fire, and the other held noodles, spices, and bowls.
The meal's origin is disputed, but it is generally believed that the soup was influenced by both immigrant Chinese workers, who favored noodle soups, and the occupying French, who introduced beef as a protein source. (Prior to the French's arrival, cows were considered working farm animals, not food.)
Pho's transition from regional street food to international sensation encompasses many of Vietnam's major 20th century historical events. The dish spread to the south after the partition of Vietnam in 1954, when hundreds of thousands of Northern Vietnamese fled south to avoid communist rule. There, pho evolved from a simple soup of broth, noodles, and meat to a meal with near infinite varieties. They added in bean sprouts, thorny cilantro, Asian basil, lime juice, fish sauce, hoisin sauce, and other herbs.
While those in the north of Vietnam still serve and prefer their simplified pho, it was mainly the modifiable version that caught on in the new homelands of the Vietnamese who fled their homeland at the end of the U.S.-Vietnam war in 1975.
In the United States, pho was popular mainly in Vietnamese communities until U.S.-Vietnam international relations warmed during the 1990s. When President Clinton had a bowl of chicken pho at Pho 2000 in Ho Chi Minh City (Saigon) during his visit to the city in 2000, American interest in the dish skyrocketed.
The soup is made today as it was a century ago: marrow bones from beef or chicken are cooked along with charred onion and garlic and spices including star anise, ginger, and cinnamon bark. Cooked rice noodles are placed on the bottom of a bowl and topped with cilantro, thinly sliced onions, and meat—choices can include chicken, tripe, and raw or cooked beef. Assemble your perfect bowl by adding your favorite herbs and condiments and enjoy like the locals: scooping noodles into your mouth while slurping the delicious broth.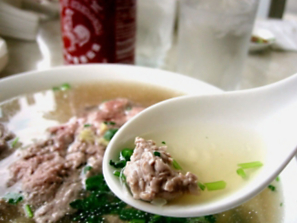 Beef Pho (Pho Bo)
For the broth:
2 medium yellow onions
4-inch piece ginger (4 ounces)
5-6 pounds beef soup bones (marrow and knuckle bones)
5 star anise
6 whole cloves
3-inch cinnamon stick
1 pound piece of beef chuck, rump, brisket, or cross rib roast, cut into 2-by-4-inch pieces
1 1/2 tablespoons salt
4 tablespoons fish sauce
1 ounce (1-inch chunk) yellow rock sugar (duong phen)*
For the bowls:
1 1/2-2 pounds small (1/8-inch wide) dried or fresh banh pho noodles ("rice sticks'' or Thaichantaboon)
1/2 pound raw eye of round, sirloin, London broil or tri-tip steak, thinly sliced across the grain (1/16 inch thick; freeze for 15 minutes to make it easier to slice)
1 medium yellow onion, sliced paper-thin, left to soak for 30 minutes in a bowl of cold water
3 or 4 scallions, green part only, cut into thin rings
1/3 cup chopped cilantro
Ground black pepper
Garnishes:
Sprigs of spearmint and Asian/Thai basil
Cilantro leaves
Bean sprouts (about 1/2 pound)
Red hot chiles, thinly sliced
Lime wedges
Prepare the broth:
Char onion and ginger over open flame (grill or gas stove) for 15 minutes, until they soften and become sweetly fragrant. Rotate with tongs, watching for flyaway onion skin. You do not have to blacken the entire surface, just enough to slightly cook. Alternately, broil in an electric oven until softened.
Let cool. Under warm water, remove charred onion skin; trim and discard blackened parts of root or stem ends. Use sharp paring knife to remove ginger skin, running under warm water to wash off blackened bits. Set aside.
Place bones in stockpot (minimum 12-quart capacity). Cover with cold water. Boil vigorously 2 to 3 minutes to clean. Dump everything into sink and rinse bones with warm water. Rinse stockpot to remove residue. Return bones to pot.
Add 6 quarts water to pot, bring to boil over high heat, then gently simmer. Use ladle to skim any scum that rises to surface. Add remaining broth ingredients and cook, uncovered, for 1 1/2 hours. When meat is cooked to your liking, remove it and place in bowl of cold water for 10 minutes; this prevents the meat from drying up as it cools. Drain the meat; then refrigerate.
Continue cooking broth for another 1 ½ hours then strain through fine strainer. Discard solids.
Skim fat from top of the broth with ladle. (Refrigerate overnight to make this task easier.) Taste and adjust flavor with additional salt, fish sauce, and yellow rock sugar. It should taste slightly too strong because noodles are not salted. (If you've gone too far, add water to dilute.)
Assemble pho bowls:
Thinly slice meat. For best results, make sure it's cold.
Reheat broth over medium flame as you're assembling bowls.
Dried noodles: cover with hot tap water and soak 15-20 minutes, until softened and opaque white. Drain in colander. Fresh noodles: untangle and rinse in a colander with cold water.
Fill 3- or 4-quart saucepan with water and boil. For each bowl, use long-handle strainer to blanch a portion of noodles. As soon as noodles have collapsed and lost their stiffness (10-20 seconds), pull strainer from water, letting water drain back into saucepan. Empty noodles into bowls. Noodles should occupy 1/4 to 1/3 of bowl.
Place slices of meat atop noodles. Garnish with onion, scallion and chopped cilantro. Finish with black pepper.
Bring broth to rolling boil. Check seasoning. Ladle broth into each bowl, distributing liquid evenly to cook raw beef and warm other ingredients. Serve with the garnish plate.
Makes about 4 quarts. Serves 8.
*Note: Yellow rock sugar is sold at Chinese and Southeast Asian markets. Break up large chunks with hammer.
Give this pho recipe a try in your own home or enjoy this Vietnamese staple with O.A.T. during Inside Vietnam.