Recipe: Pesto Perfected
Posted on 4/18/2017 12:01:00 PM in The Buzz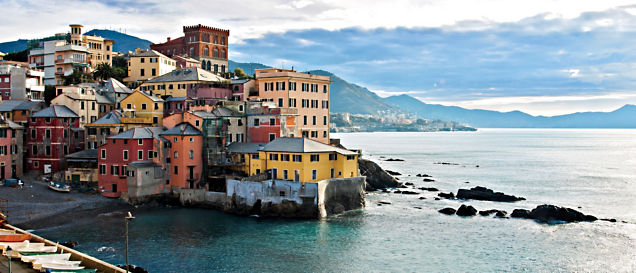 In Genoa, Italy, perched on the Ligurian coast, pesto is serious business.
With just six ingredients and no cooking required, pesto is beautiful in its simplicity—but when it comes to getting it just right, things can get downright complicated. Fortunately, there's an official consortium in Genoa, Italy, to ensure that "the only true pesto"—more than just a recipe, but a Genovese cultural symbol—gets the respect it deserves.
The Consorzio del Pesto Genovese aims to protect the authenticity of this classic combination of basil, garlic, pine nuts, cheese, and olive oil. In fact, unless you've been to Genoa, they'll argue that you've never had a true Genovese pesto—because the basil grown in Liguria tastes nothing like anything you'll find in the U.S. The difference was notable enough to earn Genovese basil D.O.P. status—Denominazione di Origine Protetta, or, "Protected Designation of Origin." Its leaves are tender and vivid green, with a more fragrant, less peppery flavor than other varieties of sweet basil.
D.O.P. basil is just one crucial element specified in the official Consorzio recipe. The term "pesto" literally means "to pound," and an authentic version must be prepared with a mortar (of marble, please) and pestle (of wood)—never a food processor or blender.
Once you've prepared your pesto to these exacting standards, you must decide what to do with it. According to purists, you have two options: serve it over pasta (of a typical Ligurian variety) or stir it into a minestrone soup. The Genovese would never spoon pesto over meat, or use it to top a pizza—the sauce should never be cooked.
Of course, the Consorzio won't come knocking down your door if your pesto breaks from tradition—and while we adapted our recipe from their official version, we (like many modern cooks, even in Italy) condone the use of a food processor. High-quality ingredients in the proper proportions will still yield delicious results.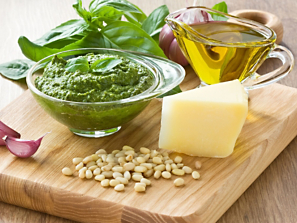 Pesto Genovese
Ingredients:
3 cups fresh basil leaves (as small and tender as possible)
2 cloves garlic
1 Tbsp pine nuts
6 Tbsp grated parmigiana Reggiano
2 Tbsp grated pecorino Romano
1/2 cup extra virgin olive oil
Salt to taste
Instructions
Rinse the basil in cold water and gently pat dry—do not rub the leaves.
If using a mortar and pestle, crush the garlic and pine nuts first, followed by a pinch of salt and the basil. Use a light, circular motion until the basil has released its liquid. Add the cheese and the oil, continuing to mix until incorporated.
Alternately, add all ingredients to the bowl of a food processor and process until smooth.
Season to taste with salt.
Serve over pasta cooked al dente or potato gnocchi. Leftover pesto freezes well.
Serves 6
Sample Liguria's perfect pesto when you join our Rivieras: Italy, France & the Isles Small Ship Adventure. Explore the region with travel expert Rudy Maxa in this film:
Produced by Small World Productions