Recipe: Peruvian Solterito
Posted on 7/31/2018 12:00:00 AM in The Buzz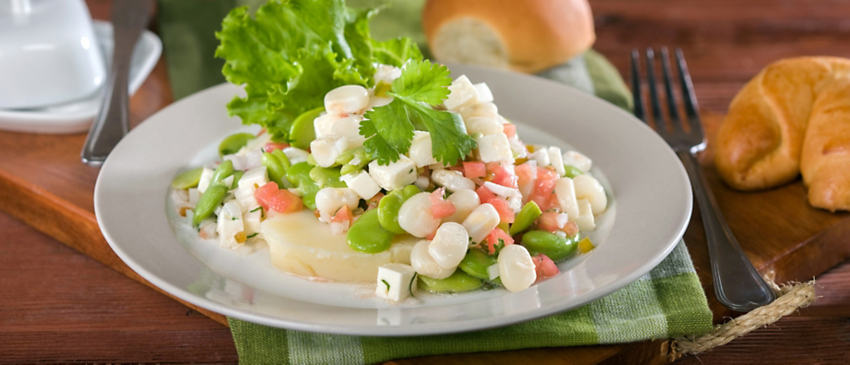 The indigenous people of the Andes have been eating corn for thousands of years—with evidence suggesting maize was grown in Peru as early as 3000 BE. Today, Peru produces more than 50 varieties of corn in a rainbow of colors—including the giant white corn grown only in the Sacred Valley, known locally as choclo. So beloved is the culinary staple, environmentalists have developed programs to preserve this heirloom crop (among others unique to the region), including it in an indigenous seed bank and lobbying for legislation against pesticides and genetic modification.
Unlike the sweet corn we look forward to each summer here in the U.S., choclo has much larger kernels—among the largest in the world—and a starchier texture. It's more similar to hominy, though hominy is dried and treated with an alkali solution that makes it easier to use and digest. You'll find choclo in soups and stews; ground to make dough for tamales;or fermented to make the infamous chicha (corn beer). Deep fried and salted, it makes an addictive snack, typically offered gratis at the beginning of a Peruvian restaurant meal.
On the healthier end of the starch spectrum, this vibrant salad is perfect for a summer potluck. "Solterito" is the diminutive form of "saltero," which means "single man." The origin of the name is anyone's guess; perhaps because the dish requires little-to-no cooking, it's easy for a single man to prepare. Regardless of gender or marital status, who doesn't appreciate a break from the oven once in a while?
Solterito (Peruvian Chopped Salad)
You can look for frozen or canned Peruvian (or Inca) corn in Latin markets or the international section of large grocery stores. If you can't find it, though, this recipe is a great way to showcase fresh sweet corn. Or, try it with hominy, which is readily available canned and has a nutty corn flavor with a chewier texture.
Ingredients:
1 1/2 cups fresh or frozen lima or fava beans (peeled if using favas)
1 1/2 cups corn kernels or hominy, cooked, canned, or thawed from frozen
1/2 cup black olives, sliced
1 tomato, seeded and diced
1/2 cup red onion, chopped
1 1/2 cups queso fresco (or other semi-soft white cheese), diced
1 jalapeno, finely minced (to taste)
2 Tbsp cilantro or parsley leaves, chopped
3 Tbsp red or white wine vinegar
6 Tbsp olive oil
Salt and pepper, to taste
Preparation:
Combine all salad ingredients (through cilantro) in a large bowl.


In a small bowl, whisk vinegar and oil together.


Add vinaigrette to salad ingredients and season to taste with salt and pepper.


If possible, refrigerate for 2 hours before serving to allow flavors to marinate.
Serves 4-6
Enjoy traditional Peruvian flavors when you join O.A.T. for Machu Picchu & the Galápagos.