Recipe: Peruvian Quinoa Stew
Posted on 11/20/2018 12:00:00 AM in The Buzz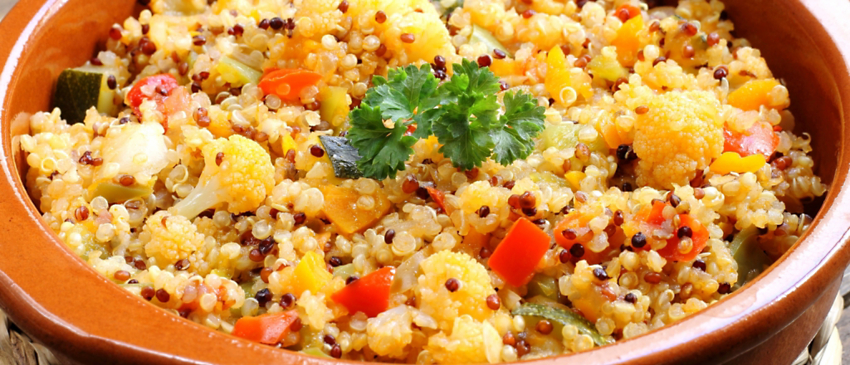 While quinoa didn't become mainstream in the U.S. until the early 2000s, it has been cultivated in the Andes for at least 5,000 years. The Incas referred to it as chisaya mama, or, "mother of all grains," and worshipped it as sacred; according to legend, the emperor ceremoniously sowed the first quinoa seeds every year.
When Pizarro and the conquistadors arrived in South American in the 1500s, they destroyed quinoa fields in a widespread attempt to wipe out native culture, forcing the Incas to grow wheat instead. But the grain survived in high reaches of the mountains, and eventually other South American countries began to cultivate it as well. In the 1980s, quinoa came onto the radar of health-conscious consumers in the U.S., where it evolved from a niche health food into a pantry staple within just a few decades.
Attempts to grow quinoa in North America have been met with limited success—but in the arid climes of the Andes, it is known as a "super crop." It can be grown in sandy soil and requires no fertilizer or irrigation; can survive minor frosts; germinates within just 24 hours; and produces seedlings in just 3-5 days. It may not grow well here in the U.S., but elsewhere, it could prove instrumental in the fight against world hunger—and NASA scientists have even researched quinoa as a potential candidate for space cultivation.
Despite its common designation as an "ancient grain," quinoa is not a grain at all, but a seed related to beets and spinach. It is rich in protein, fiber, magnesium, riboflavin, and manganese. Indulge in the many benefits of quinoa—and warm up on a chilly night—with this recipe for Peruvian quinoa stew.
Ingredients:
1/2 cup quinoa
1 cup water
1 onion, diced
2 garlic cloves, minced
2 Tbsp. vegetable oil
1 celery stalk, chopped
1 carrot, sliced (1/4-inch thick)
1 bell pepper (any color), cut into 1-inch pieces
1 cup zucchini, cubed
2 cups undrained canned tomatoes
2 tsp. ground cumin
1/2 tsp. chili powder (or more, to taste)
1 tsp. ground coriander
1 pinch cayenne (or more, to taste)
1 tsp. dried oregano
1 cup vegetable stock
Salt, to taste
Fresh cilantro, chopped (optional)
Preparation:
Rinse quinoa well, and place in a pot with water. Cook over medium heat for about 15 minutes, or until soft. Set aside.


While the quinoa cooks, sauté onions and garlic in oil over medium heat for 5 minutes.


Add the celery and carrots. Cook for 5 additional minutes, stirring often.


Add the bell pepper, zucchini, and tomatoes, as well as the cumin, chili powder, coriander, cayenne, and oregano. Cook for a few additional minutes, then stir in vegetable stock. Cover, and simmer for about 15 minutes, until vegetables soften.


Stir in the cooked quinoa and add salt to taste. Before serving, sprinkle chopped cilantro on top if desired.
Serves: 4
Enjoy the hearty cuisine of the Andes when you join O.A.T. for Machu Picchu & the Galápagos.