Recipe: Osso Buco Milanese
Posted on 9/29/2020 12:00:00 AM in The Buzz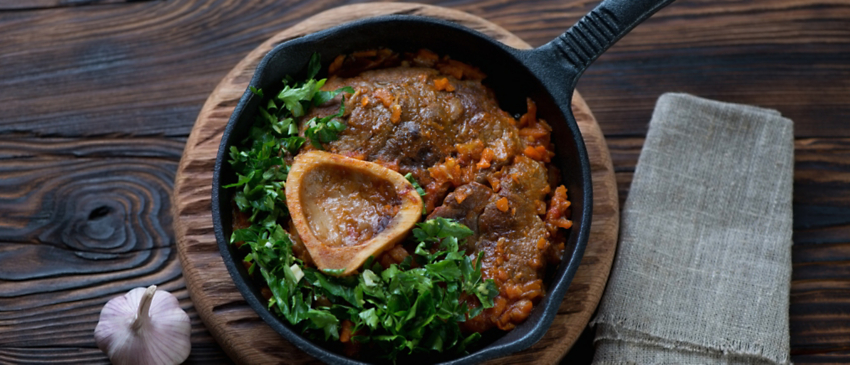 Today, we think of Milan as the cutting-edge fashion capital of the world—but it also claims to be the birthplace of one of Italy's most classic recipes. Osso buco—literally, "bone with a hole"—originated in the Lombardy region in the 19th century. And while fashion trends come and go in Milan, this rustic veal stew needs no modern embellishments, and never goes out of style.
The titular "bone with a hole" is a veal shank, cross cut to reveal the marrow that oozes into the sauce as it cooks, lending it a rich flavor and luscious texture. While northern Italians love their pasta just as well as their neighbors further south, you're more likely to see meat play a starring role in Lombardy—as is definitely the case with osso buco. Lombard dishes also tend to favor butter over olive oil (our recipe uses both), and rice or risotto over noodles (which we leave up to you).
While you'll often see osso buco served unadorned, we prefer it topped with gremolata: a bright, acidic condiment of lemon zest, parsley, and garlic that brightens the dish and cuts through the richness. You can serve it over the starch of your choosing—risotto being the ultimate choice for hearty eaters. Or, serve the meat and sauce as a meal on its own.
Osso buco is deceptively simple to make—but doing it justice requires some foresight: Allow the flavors to meld overnight in the refrigerator, and your patience will be rewarded.
Osso Buco Milanese with Gremolata
Ingredients
For the Osso Buco:
4 veal shanks (also sold as shins), cross cut with bone in, about 1 1/2 inches thick
Flour, salt, and pepper for dredging
3 Tbsp olive oil
2 Tbsp butter
1 carrot, finely chopped
1 celery stalk, finely chopped
1 medium yellow onion, diced small
3 cloves garlic, minced
1 cup dry white wine
2 Tbsp flat-leaf parsley, chopped
1 28-oz can whole plum tomatoes (preferably San Marzano), drained and coarsely chopped
1/2 cup chicken broth
1 bay leaf
Salt and pepper, to taste
For the gremolata:
Zest of two lemons, grated
1/2 bunch flat-leaf parsley, stems removed and finely chopped
3 cloves garlic, crushed or finely minced
Preparation
Dredge veal shanks in seasoned flour and shake off excess.
In a large Dutch oven, melt butter with olive oil over medium-low heat. Increase heat to medium-high and brown shanks on all sides, allowing an inch of space between each and working in batches if necessary. Remove from pan and set aside.
Reduce heat to medium and add carrot, celery, onion, and garlic, stirring to release the brown bits from the bottom of the pan. Cook until vegetables are slightly softened.
Add the wine, parsley, tomatoes, chicken broth, and bay leaf. Stir and season to taste with a little salt and pepper.
Preheat oven to 350 degrees Fahrenheit.
Return shanks to pan, cover, and bake for 2 hours, turning shanks over periodically.
Remove from oven, cool, and discard bay leaf. Refrigerate for one day to meld the flavors.
Reheat over stovetop or in a low oven.
Just before serving, prepare the gremolata by combining lemon zest, parsley, and garlic.
Serve plain or over the starch of your choice—noodles, polenta, risotto, or even mashed potatoes. Sprinkle with gremolata.
Serves 4
Savor Northern Italy's distinct regional cuisine on our new Northern Italy: The Alps, Dolomites & Lombardy adventure.