Recipe: Original Apfelstrudel
Posted on 9/5/2017 12:01:00 PM in The Buzz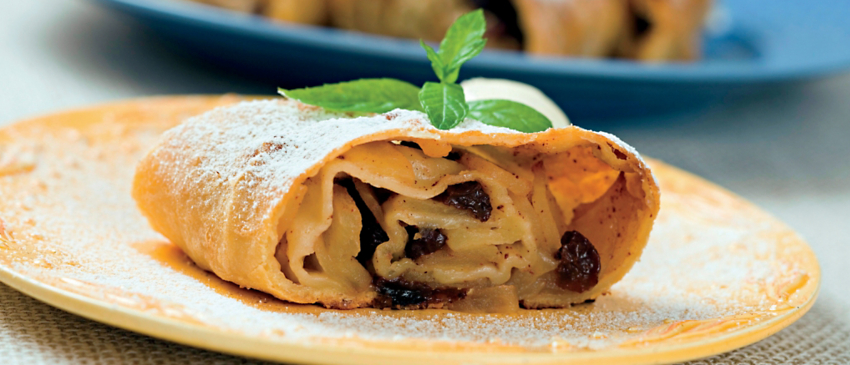 Derived from the German word for "whirlpool," the rolled pastry known as strudel arrived in Austria by way of the Ottoman Empire, who brought their flaky, layered baklava to Europe. While it's difficult to pinpoint the exact timeline, the earliest known strudel recipe dates from 1696 and resides at the Vienna Library in City Hall.
Our recipe for apfelstrudel comes to you from our European river ships, where our onboard chefs sometimes show travelers how to prepare the dessert during live demonstrations—a tradition that you can also witness in the Imperial Bakery of Vienna's Schönbrunn Palace. While we can't claim that ours is the "royal and official" version, we do know that many of our travelers request to bring home the recipe, which we're sharing with you today, courtesy of Gerhard Wurm, our Vice President of Hospitality.
The biggest challenge with strudel is rolling the dough thinly enough—which is made possible by the inclusion of oil. Once you've mastered the technique, you can fill your strudel with any filling you like, either sweet or savory. We prefer the apple version because it's Austria's national dish.
Original Apfelstrudel
For the pastry:
Ingredients:
3 cups of flour
1 egg
1 pinch of salt
1/2 cup of water
1 tablespoon of oil
Preparation:
Work all ingredients together into a dough until no longer sticky.


Let the pastry rest for 1 hour in a warm place to ensure elasticity of dough. Meanwhile, you have enough time to prepare the filling.
For the filling:
Ingredients:
10 cups sliced apples
2/3 cup breadcrumbs
½ cup chopped walnuts
¼ cup sugar or to your taste
Cinnamon to your taste
Lemon juice
½ cup raisins
Rum to taste
Preparation:
In a large bowl, mix all the ingredients until well incorporated.
To assemble:
Preheat oven to 380-400 degrees Fahrenheit.


Roll the pastry very thin (you must be able to read the page of a newspaper underneath).


Top one end with the filling, and fold the dough over repeatedly to cover it. Bake the strudel for approximately 45 minutes.


Top with powdered sugar or whipped cream, and serve warm—perhaps with vanilla ice cream.
Perhaps you'll learn to make this recipe from an expert onboard chef during our Great Rivers of Europe River Cruise.