Recipe: Kenchinjiru (Japanese Vegetable Soup)
Posted on 4/16/2019 12:00:00 AM in The Buzz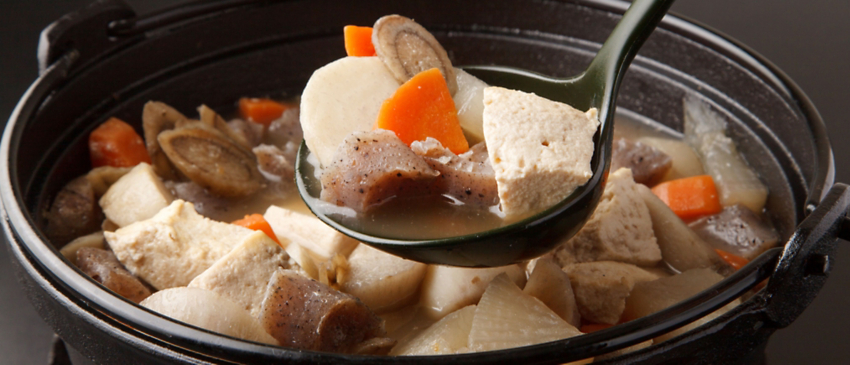 We all know that plant-based diets have health benefits, but they also significantly reduce a person's environmental impact on the planet. A massive 2018 study—based on 40,000 farms in 119 countries—showed that while meat and dairy account for just 18% of the calories consumed globally, livestock uses more than 80% of the world's farmland and produces 60% of agricultural greenhouse gas emissions. What's more, 86% of the land mammals on Earth are either livestock or human. Not even the most humane, sustainable cattle farms can come close to the relatively small footprint made by vegetables and grains.
While we certainly don't expect all our readers to become vegan—if you already are, we applaud you—eating even a few meatless meals per week can help make a difference. Naturally, we look to the world for inspiration. Perhaps the most elegant comes from the Buddhist monasteries of Japan, the birthplace of shojin ryori cuisine. As Buddhism prohibits the killing of animals, true shojin-ryori eschews all meat. It uses only local and seasonal ingredients to connect the body with nature, and focuses on balance versus strong, pungent flavors.
In other parts of the world, such as China, "mock meat" made from soy or wheat gluten features heavily in vegetarian dishes. While these can be surprisingly delicious, we appreciate the simplicity of Japanese cuisine, which famously allows unadulterated ingredients to speak for themselves. What better way to honor the Earth and the bounty it provides? This soup is a beautiful example.
Kenchinjiru (Vegetable Soup)
If you don't have access to an Asian market, you can use any variety of root vegetables in this soup to replace the burdock and daikon. Standard radishes, potato, and turnip work well. Slice the vegetables according to cooking time; for example, burdock takes longer than carrot or daikon, and should therefore be sliced more thinly.
Ingredients:
3 dried shiitake mushrooms
3 cups boiling water
1 Tbsp vegetable oil
2 medium carrots, peeled and sliced
6-inch burdock root, peeled and thinly sliced
4-inch piece of daikon radish, peeled and sliced
4 fresh shiitake mushrooms, sliced
2 tsp brown sugar
1/3 cup sake
1/2 block of firm tofu, cubed or crumbled
1 sheet of kombu
2 Tbsp soy sauce
1/2 tsp salt, or to tasted
Instructions:
Rinse dried shiitake mushrooms and place in a bowl with boiling water. Steep for 30 minutes. Remove the mushrooms and reserve soaking liquid. Squeeze excess water from mushrooms, chop, and set aside.


In a large pot, heat oil over high heat. Add vegetables and brown sugar and stir fry until fragrant, about 5 minutes.


Add sake and stir to deglaze the pan. Cook for a moment to allow alcohol to burn off. Add reserved shiitake liquid, taking care to avoid any sediment that might have gathered at the bottom of the bowl.


Add tofu, kombu, and soy sauce. Reduce heat to low and simmer gently for 20-30 minutes. Season to taste with salt.


Serves 4
Enjoy the pure flavors of Japanese cuisine when you join O.A.T. for Japan's Cultural Treasures.