Recipe: Japanese "As You Like It"
Posted on 5/9/2017 12:01:00 PM in The Buzz
Pizza meets omelet in okonomiyaki, a classic Japanese dish.
In Japan, the studied pursuit of excellence defines the country's culture. Think shinkansen bullet trains pulling soundlessly into the station within seconds of their predicted arrival time. Or kimono-clad sado tea ceremony experts practicing the tilt of the wrist that accompanies the ideal pour.
When you're making okonomiyaki, though, it's okay if things get a little messy. Loosely translated, okonomiyaki means "whatever you like" (okonomi), "cooked" (yaki). Best described as a cross between a pizza and an omelet, this satisfying meal is usually made from a batter of flour, grated yams, dashi (savory stock), cabbage, and eggs, mixed together and cooked quickly on a griddle. Once done, the pancake-like patty is topped with okonomiyaki sauce (similar to Worcestershire sauce, but thicker), Japanese mayonnaise, green onions, aonori (green seaweed), katsuoboshi (bonito fish flakes) and garnished with beni shoga (pickled red ginger).
Though relatively unknown in the States, okonomiyaki is popular throughout Japan, especially in Osaka and Hiroshima. Each boasts its own distinct style of making this dish, and both regions insist that their way is the "right" way, maintaining a friendly rivalry like the one between the thin crust-loving pizza perfectionists of New York City and the dedicated deep-dish fans of Chicago.
Osaka-style okonomiyaki is more prevalent throughout the country, perhaps because it is simpler and easier to make. In fact, in towns from Tokyo to Kyoto, you'll most often find it served in special restaurants where patrons make their own okonomiyaki from ingredients that arrive separately in a bowl (this way the customer can observe that each component is fresh and of high quality). Customers then mix together the components of their choice, spread the batter on the grill—manipulating the "pancakes" with special spatulas and flipping them so that they're cooked through—then adding their own toppings.
In Hiroshima, by contrast, the ingredients are layered on top of one another rather than mixed together. First, the batter is spread thinly over a hot griddle so that it resembles a French crepe, then the cabbage and other ingredients are piled high like a haystack on top. Hiroshima-style okonomiyaki also includes yakisoba, or cooked noodles, which are added to the pile. This style is more difficult for the novice, since the crepes can easily burn, and the entire thing must be flipped over with a spatula and cooked down until it lies almost flat.
For obvious reasons, we prefer to prepare the Osaka-style at home. The hardest part can be sourcing authentic Japanese ingredients. We recommend visiting your local Asian market to pick up staples like dashi and aonori, or browsing the foreign foods aisle of your regular supermarket. You might also choose to adapt the dish based on what's available locally or what your family likes to eat. Try substituting Worcestershire sauce or hoisin sauce for okonomiyaki sauce, French fried onions for bonito fish flakes, and bacon for thinly-sliced Asian beef. Remember, it's called "whatever you like" for a reason
Osaka-Style Okonomiyaki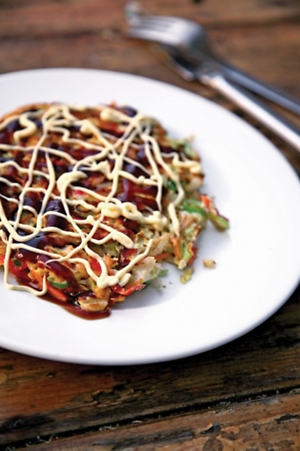 Ingredients
2 cups all-purpose flour
1 ¼ cups dashi soup stock or water
4-6 eggs
1 lb (about 2 cups) cabbage, coarsely chopped into fine pieces
6 tbsp scallions, thinly sliced
6 tbsp cooking oil
Toppings
12-18 strips of thinly-sliced beef or pork, if desired (to get paper thin strips, ask your butcher to do the slicing)
Katsuobushi (bonito fish flakes)
Aonori (green seaweed) to taste
Beni shoga (pickled red ginger) to taste
Okonomiyaki sauce, hoisin sauce or Worcestershire sauce to taste
Mayonnaise to taste (Japanese mayonnaise is recommended; in any case, use a squirt-style bottle)
Optional Garnishes
Fresh green onion to taste
½ cup bean sprouts
Other toppings as desired
Instructions:
If adding dashi soup stock, dissolve dashi in warm water according to directions. Mix together flour and dashi stock or water in a bowl. Batter will be somewhat thick. Rest the batter in the refrigerator for 30-60 minutes.
Chop cabbage and scallions. Set aside in small bowls.
If preparing for guests to make okonomiyaki on their own, separate batter into bowls containing ½ cup of batter, which makes one serving.
Mix chopped cabbage (about ¼ lb or ½ cup per serving) and chopped scallions (1 Tbsp per serving) into the batter.
Make a hole in the center of the batter and add one egg. Mix well.
Heat a flat pan or an electric griddle on low heat and add a small amount of oil.
Pour the batter slowly into the pan, making a round of about 4-6 inches across. Cook for 5-7 minutes, until the bottom is firm and golden brown.
If you are adding meat, cook the round until almost done on the first side, adding meat to the top of the round just before you are ready to flip it. Secure it to the round by spreading a small amount of batter thinly over the top of the meat.
Flip the okonomiyaki carefully using two spatulas, supporting both sides and flipping the round very slowly. Cook another 5-7 minutes until the round appears fully cooked through and the other side is golden brown.
Flip the okonomiyaki again and add toppings: okonomiyaki sauce first, then mayonnaise (many Japanese restaurants will squirt the mayonnaise in a crosshatch pattern), then sprinkle katsuoboshi and other fresh ingredients on top.
Garnish with a generous pinch of beni shoga in the center for color if desired, and serve hot.
Serves 4-6
Perhaps you'll sample okonomiyaki for yourself when you join O.A.T. for Japan's Cultural Treasures. Take a tour of some of Osaka's other culinary delicacies in this short film:
Courtesy CNN