Recipe: Israeli Falafel
Posted on 12/10/2019 12:00:00 AM in The Buzz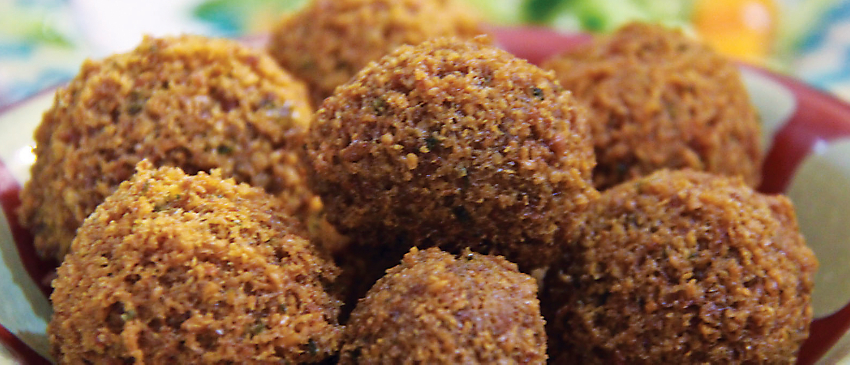 Across the Middle East, falafel reigns supreme. A national dish of Israel, Palestine, Egypt, Lebanon, and Yemen, the dish is at least a millennium old. (Just don't ask which country created it, or you'll start a fight.) Israel doesn't claim to have been first—it traces the arrival of falafel to Yemeni Jews—but it put its own stamp on the dish as the first nation to popularize serving falafel inside pita bread pockets with vegetables.
There are multiple ways to assemble your falafel (using a meat grinder or a food processor) and to cook it (fried, as is traditional, or baked in the oven), and we have you covered below for all options. But there is one thing you should never vary: you must use dried chickpeas that have been soaked overnight, instead of chickpeas from a can. The softer canned chickpeas are going to yield a less-firm falafel that falls apart in cooking. If starting the meal a day early feels daunting, consider this: assembly and cooking can be done in under half an hour once you're ready, making it the Middle East's original fast food.
Ingredients
2 cups dried chickpeas
1 teaspoon whole cumin seed (or ¾ teaspoon ground)
1 teaspoon whole coriander seed (or ¾ teaspoon ground)
3 cloves garlic, minced
1 small yellow onion, chopped fine
1 cup fresh cilantro
1 cup fresh parsley
Zest of 1 lemon
1/4 teaspoon cayenne
1 1/2 teaspoons Kosher salt
1/2 teaspoon ground black pepper
Neutral oil (canola, vegetable, or peanut) for frying
Instructions
Place chickpeas in a large bowl and cover with water to a depth of three inches. (They'll expand quite a bit.) Cover the plastic wrap and rest overnight. If the beans absorb all the water by morning, add a little more. Drain and rinse the beans when ready to prepare the meal.


When ready to start the meal, toast the cumin and coriander seeds in a skillet over medium heat, shaking the pan frequently, for three to four minutes, until lightly brown and aromatic.


Use a spice grinder, mortar and pestle, or food processor to grind the spices until fine.


Mix chickpeas, ground spices, garlic, onion, cilantro, parsley, lemon zest, cayenne, salt, and pepper in a large bowl, stirring well to combine.


Put the mixture through a meat grinder in batches until it resembles ground meat. (If you do not have a meat grinder, use a food processor, but refrigerate the mixture for an hour before continuing.)


Press the mixture into firm patties or roll into balls. They must be packed together well or they will fall apart in cooking. Rest all finished balls or patties on a platter until you are ready to cook them.


Line a baking sheet with paper towel or brown paper and set aside.


Pour 3 inches of oil in a Dutch oven or a deep cast iron skillet and heat over med-high heat until the temperature reaches 360°-375° F. Drop in one falafel; if the oil sizzles, it is ready.


In batches, so the falafel doesn't touch each other, fry the balls for two to three minutes, till golden brown. Make sure the balls completely submerge or flip after a minute to two for even browning. Prefer to bake? Bake the falafel, not touching, on a lightly oiled cookie sheet in a 350-degree oven for 15-20 minutes, turning once.


Remove from oil with a slotted spoon and dry on the lined baking sheet. Sprinkle salt on the falafel while still warm.
Savor all the delights of Israeli cuisine and other rich traditions during your Israel: The Holy Land & Timeless Cultures adventure.