Recipe: Indian Masala Dosas
Posted on 8/29/2017 12:01:00 PM in The Buzz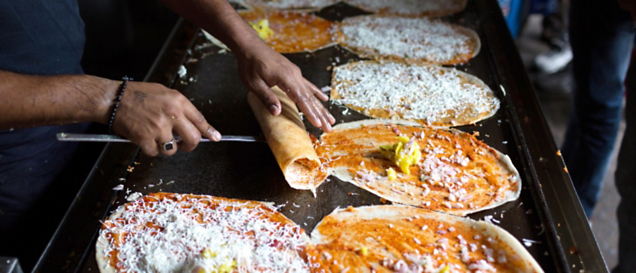 This Indian street food got its start in South India, but the dish is continuously gaining popularity throughout the U.S.
Don't call it a pancake or even a crepe: a dosa is in a category all its own. Ubiquitous today throughout India, this tasty street food has caught on all over the world—but it has its roots in South India. Culinary historians can't quite agree on the actual birthplace, but these days most believe that dosa evolved from Udupi cuisine, which is entirely vegetarian and based on grains, beans, and vegetables.
According to Ayurvedic principles, Udupi cuisine shuns onions and garlic, as the alliums are believed to be harmful to the mind and body. Even certain vegetables like tomatoes and carrots are excluded. But within these restrictions, the Brahmins who adhere to this diet have obsessively tinkered with seasonal, local ingredients over centuries, creating surprisingly delicious delicacies.
Of these, dosa are among the most universally palatable, as evidenced by the number of restaurants dedicated to the dish that have cropped up in cities throughout the U.S. The batter, made from rice and lentils, is high in protein, and free of gluten and saturated fat. It's also fermented, which breaks down the starches and makes them easier to digest. If this sounds like boring health food, perish that thought—because dosa certainly don't taste that way.
While the modern-day dosa can be filled with just about anything—with zero regard to Ayurvedic principles—potato-filled masala dosa are a classic in South India. We've teamed up with Epicurious to bring you this traditional version. After the recipe, you can watch a film that demonstrates the preparation, and download an easy-to-print PDF.
Indian Masala Dosa

Ingredients:
For dosas:
1 1/2 cups long-grain white rice (not converted; 10 oz)
3/4 cup urad dal (white split lentils; 5 oz)
1 1/2 cups plus 1/3 cup water
1 teaspoon salt
About 1/2 cup vegetable oil for cooking
For potato filling:
1 1/2 lb Yukon Gold potatoes, all about the same size (4 medium)
1/4 cup vegetable oil
1 teaspoon black mustard seeds
8 fresh or thawed frozen curry leaves
1/2 teaspoon cumin seeds
1 medium onion, chopped
1 fresh green chile (such as Thai or serrano; 2 1/2 inches), minced, including seeds
1/2 teaspoon turmeric
1 cup water
3/4 teaspoon salt
Special equipment: A well-seasoned 10-inch round cast-iron griddle or a 10-inch nonstick heavy skillet
Accompaniment: Bottled mango chutney
Preparation:
Make dosa batter:
Place rice and lentils in separate bowls. Fill each with water to cover by 2 inches and soak 4 hours.


Drain lentils in a sieve and purée in a food processor with 3/4 cup water until light and fluffy, 3 to 5 minutes. Transfer to a large bowl. Drain rice in a sieve and purée in food processor with 1/3 cup water until a gritty paste forms, about 1 minute. (Rice paste will not be as smooth as lentil paste.) Stir rice paste and 3/4 teaspoon salt into lentil paste.


Let mixture ferment, covered with plastic wrap, in a warm (about 80°F) draft-free place until doubled in bulk, about 24 hours. (Mixture will be light and foamy.) Stir in remaining 3/4 cup water and 1/4 teaspoon salt. Let batter stand, covered, in a warm (about 80°F) draft-free place 2 1/2 hours.
Make filling while batter stands:
Combine potatoes with cold salted water to cover by 2 inches in a 2 1/2- to 3-quart saucepan and simmer, uncovered, until potatoes are just tender, 15 to 25 minutes. Drain potatoes in a colander. When cool enough to handle, peel potatoes and cut into 1/2-inch cubes.


Heat oil in a 10- to 12-inch heavy skillet over moderately high heat until hot but not smoking, then cook mustard seeds, partially covered with lid, until they just begin to pop, 15 to 30 seconds. Add curry leaves and cumin and cook, stirring, until cumin turns a shade darker, 10 to 15 seconds. Reduce heat to moderately low, then add onion and cook, stirring occasionally, until softened but not browned, 8 to 10 minutes. Stir in chile and turmeric and cook, stirring, 1 minute. Add potatoes, water, and salt and bring to a boil. Reduce heat to moderately low, then simmer, covered, stirring occasionally and mashing potatoes slightly, until sauce is thickened, 8 to 10 minutes. Discard curry leaves.
Cook dosas:
Put oven rack in middle position and preheat oven to 250°F.


Spread 1 teaspoon oil on griddle using a paper towel, then heat over moderate heat until hot but not smoking. Dip a 1/3-cup dry measure into batter, scooping gently to fill without deflating batter, and pour into center of griddle (scrape out batter remaining in measure). Quickly spread batter with back of a small spoon in a circular motion to thinly cover griddle. (Dosa may be lacy around edge.) Drizzle edge and top of dosa with 1 teaspoon oil and cook until underside is golden and crisp, 1 1/2 to 2 minutes. Turn dosa over with a metal spatula and cook, pressing occasionally, until underside is pale golden, about 1 minute more. (Adjust heat up or down if necessary to prevent overbrowning.) Transfer dosa to a foil-lined large baking sheet and keep warm, loosely covered with foil, in oven.
Make 9 to 11 more dosas in same manner, transferring as cooked to baking sheet in 1 layer and separating additional layers of dosas with foil.
Assemble dosas:
Spread 1/3 cup hot potato filling in a line across middle of each dosa and loosely fold dosa over filling in thirds like a letter.
Cooks' notes:
Batter, after fermenting (24 hours) and standing (2 1/2 hours), can be chilled up to 24 hours more. Let stand at room temperature 30 minutes and gently stir to combine before cooking. Dosas, without filling, can be cooked up to 1 hour ahead and kept, covered with foil, at room temperature. Reheat dosas in a 350°F oven between layers of foil until warm, about 10 minutes. Filling can be made 1 day ahead and chilled, covered. Reheat, adding water to loosen filling if necessary.
Serves 4
See the experts prepare masala dosa in this film:
Download and print the recipe here.
Seek out authentic masala dosa on the streets of Southern India when you join O.A.T. for Soul of India.