Recipe: Hungarian Goulash
Posted on 12/12/2017 12:00:00 AM in The Buzz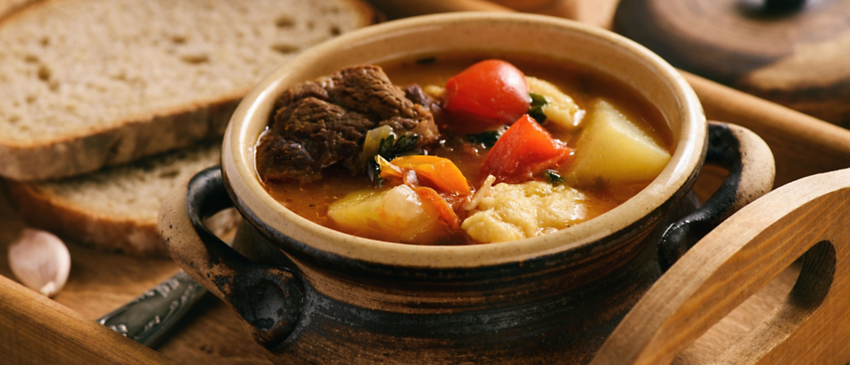 For most Americans, "goulash" refers to the cafeteria stalwart made with elbow macaroni, ground beef, and tomatoes—which, beyond the use of meat and paprika, actually bears little resemblance to its Hungarian namesake. Traditional Hungarian goulash is more of a soup, and not necessarily served with noodles.
The name "goulash," is derived from gulyas, or "herdsman," for the cowherds who invented the earliest versions. After slaughtering a cow during long months on the plains, the men would enjoy a simple stew of meat simmered with onions and black pepper. Eventually, the pepper was replaced with Hungary's beloved paprika, made from chili peppers introduced from the Americas.
It was a decidedly humble dish, never served by the nobler classes who preferred refined French techniques. This changed, however, in the 19th century, when frustration with the ruling Hapsburg dynasty led to a nationwide celebration of true Hungarian culture—including its peasant folk tales, dances, and cuisine. Still, it took time for goulash to completely shed its coarse reputation.
Enter Auguste Escoffier, the famed French chef and critic. First, he imported paprika and served goulash á la Hongroise in Monte Carlo. Then, he included the recipe in a 1904 cookbook, cementing its place amongst the pantheon of classic European dishes.
In this version from Epicurious, be sure to use fresh, quality paprika—toss the container that's been in your cupboard for years. You can watch the experts prepare the dish in a film following the recipe, and download an easy-to-print PDF.
Ingredients:
1/2 oz dried mushrooms
2 1/2 cups hot water
1 1/4 lb boneless veal shoulder, cut into 1-inch cubes
3 teaspoons olive oil
1 large onion, halved and sliced length¬wise 1/4 inch thick
2 large garlic cloves, minced
1 1/2 tablespoons all-purpose flour
1 tablespoon sweet Hungarian paprika
1 teaspoon tomato paste
2 red bell peppers
1 lb fresh cremini mushrooms, trimmed and halved (quartered if large)
Preparation:
Soak dried mushrooms in hot water until softened, about 30 minutes.


Remove mushrooms from liquid, reserving it, and rinse mushrooms. Squeeze out excess moisture and coarsely chop. Pour reserved liquid through a paper towel-lined sieve into a bowl to remove grit. Return mushrooms to liquid.


Pat veal dry and season with salt and pepper. Heat 1 teaspoon oil in a 4- to 5-quart heavy pot over moderate heat until hot but not smoking, then brown veal in batches. Transfer as browned to a bowl.


Add 1 teaspoon oil and onion to pot and cook over moderately low heat, stirring frequently, until softened. Add garlic and cook, stirring, until fragrant, about 1 minute. Stir in flour and paprika and cook, stirring, 1 minute. Whisk in soaked mushrooms with liquid, scraping up any brown bits, and tomato paste, then bring to a simmer, whisking. Add veal with any juices.


Cover and simmer over low heat until veal is tender, about 1 1/4 hours.


While meat is simmering, lay peppers on their sides on racks of gas burners and turn flames on high. Roast peppers, turning with tongs, until skins are blistered and blackened in spots, 4 to 5 minutes. (Or cut sides from peppers, discarding seeds and stems, and broil, skin sides up, on rack of a broiler pan about 2 inches from heat.)


Transfer peppers to a bowl, cover, and cool. Peel and seed peppers and cut into 1-inch pieces. Heat remaining teaspoon oil in a 12-inch nonstick skillet over moderately high heat until hot but not smoking, then sauté mushrooms with salt and pepper to taste, stirring occasionally, until browned and tender, 6 to 8 minutes. Stir into stew with bell peppers and salt and pepper to taste and gently simmer goulash 10 minutes to blend flavors.


Serve over noodles.
Serves 6
Cooks' note:
Goulash, like all stews, will taste even better if made 1 day ahead. Cool uncovered, then chill, covered. Reheat gently before serving.
Download and print the recipe here.
Sample authentic Hungarian cuisine when you join Grand Circle Cruise Line for Eastern Europe to the Black Sea.