Recipe: Hete Bliksem
Posted on 10/16/2018 12:01:00 PM in The Buzz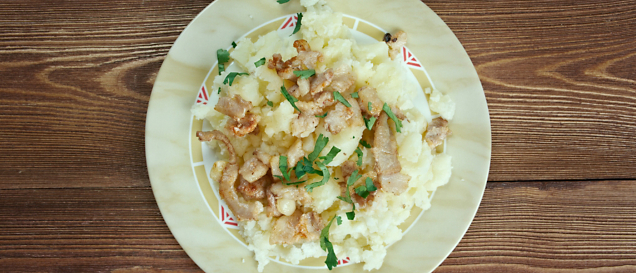 Mashed potato, apple, and beef make up this comforting Dutch dish that you can sample aboard our river ships.
It has been joked that the Dutch have three categories of food: mashed, boiled, and fried—and that most dishes are two out of three. Though that's an overstatement, it does get at the heart of the Dutch kitchen, where straightforward, comforting fare is the norm. Root vegetables, minimal meat and seafood, and a dash of salt are enough to fill a cookbook in the Netherlands, where spices play a minimal role, and complicated techniques are eschewed. What makes Dutch fare memorable is not the variety of ingredients but the myriad ways those same few items are handled from cook to cook.
Of all ingredients, the king of tubers reigns supreme in the Netherlands: potatoes factor into many of the country's staples, from humble fare to haute cuisine. Mixed with apples, celery root, kale, beets, or cabbage, and accompanied by meat, potatoes find their way into so many recipes that you might easily eat them every day in some form (and, in past eras, even at every meal).
Perhaps the ultimate Dutch comfort food is stamppot, which essentially translates to "pot of mashed things." You can make your stamppot by boiling potatoes in one pot and boiling the chosen vegetables in another, then mashing them together, or simply by cooking all the ingredients in the same pot first. It can be a meal by itself, or may be topped with slow-roasted beef—unless you want bacon. Or maybe sausage. As you can see, the core facet of Dutch cuisine is the way in which it resists precision. There is no one "right" way to make stamppot, and the same is true of the most beloved dishes.
Hete Bliksem, which means Hot Lightning, is a stamppot of mashed potato and apple. Despite the "lightning" in its title, the flavors are homey and simple, not typically spicy (unless you add horseradish, as some do).
Hearty Hete Bliksem dinner
While there are countless variations of this dish, this decadent version is served aboard our European river ships.
Ingredients:
2 lbs rump roast
2-3 carrots, peeled
1/2 cup celeriac (celery root), trimmed and peeled
2 leeks, washed and ends trimmed
4-6 potatoes, peeled and diced
2 Tbsp butter
4 apples, peeled and diced (best if 2 are sour like Granny Smiths, and 2 are sweet of any variety)
1 cup beef stock
1/2 cup whipping cream
1 tsp horseradish
1/4 tsp corn starch
Preparation:
1. Fill a heavy pot with enough cold water to cover the meat. Add a dash of salt, the carrots, leeks, and the celery root, and boil for two hours. Test for tenderness; if the meat is soft, remove the meat. If the meat is not tender, boil for up to an hour more. Keep 1 cup of the liquid. Let meat rest and then slice (keeping the pieces thick).
2. With a slotted spoon, remove the vegetables. Slice or dice and set aside.
3. In another pan, cover the potatoes with cold water and bring to a boil. Boil until tender and mash.
4. In a small sauté pan, heat the butter and then sauté the apples just until tender. Mix the apples into the mashed potatoes.
5. Make the cream: Bring the beef stock to a boil and whisk in the cream, followed by the horseradish. Remove from heat and immediately whisk in the corn starch to thicken the cream.
6. Layer the sliced vegetables on the plate. Place slices of meat atop the vegetables. Add the potato-apple mix next to the meat. Drizzle the meat and potatoes with the horseradish cream sauce.
Serves 4-6
Perhaps you'll enjoy hete bliksem aboard your river ship when you join Grand Circle Cruise Line for The Great Rivers of Europe.