Recipe: German Potato Salad
Posted on 11/14/2017 12:00:00 AM in The Buzz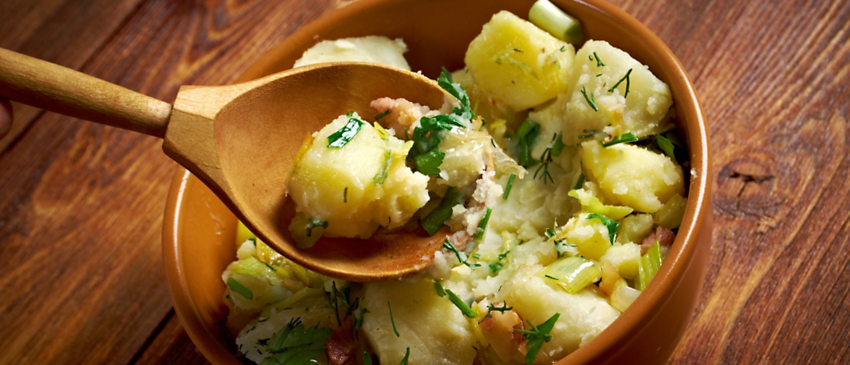 If you've visited Germany, you know that it's a difficult place to maintain a low carb diet—because potatoes are everywhere. Germany is the EU's largest producer of potatoes, and its citizens consume an average of more than 130 pounds of spuds per year. While this number has dropped a bit in recent years as modern dining trends skew more health-conscious, their love affair with the humble potato still burns strong.
It was not, however, love at first sight. When potatoes were first introduced in Germany by way of Spain in the late 1500s, they were grown almost exclusively as animal feed. It wasn't until two centuries later, during a time of famine, that the powers-that-be in Germany began to realize the potato's potential as a food source for the people … but the people themselves needed some convincing. Enter King Frederick the Great of Prussia: celebrated military strategist who could have considered a second career in public relations. As the story goes, he stationed armed guards around a few potato fields, piquing public interest and giving the appearance of value. He personally endorsed potato dishes at state dinners. And he personally distributed potatoes to commoners in villages.
While elements of these publicity stunts may have been exaggerated over time, Frederick the Great is nonetheless credited with introducing the potato to the German people—who show their appreciation each day by leaving potatoes on his grave.
This classic German potato salad is a popular potluck staple. Unlike most American versions, it eschews mayo, but stays well outside health food territory with a bacon fat dressing. After the recipe, you can watch the experts at Epicurious prepare the dish in a short film, and download an easy-to-print PDF.
German Potato Salad
Ingredients:
2 1/4 pounds potatoes (waxy variety, such as Yukon Gold)
4 slices bacon
2 1/2 cups chicken broth
1/4 cup white wine vinegar
1 cup onions, diced
1 teaspoon salt, or to taste
1 teaspoon sugar, or to taste
1/4 teaspoon ground white pepper
1/4 cup vegetable oil
2 tablespoons mild brown mustard
1/2 bunch chives, snipped
Preparation:
1. Cook the potatoes in simmering salted water until just tender, about 15-18 minutes. Drain and dry. While the potatoes are still hot, remove the skins and slice the potatoes 1/2-inch thick.
2. While the potatoes are cooking, prepare the dressing. Cook the bacon over medium-high heat until the fat has rendered and the bacon is crisp. Remove the bacon to a plate with a slotted spoon, reserving the bacon fat in the pan; crumble the bacon into small pieces, and reserve.
3. Bring the chicken broth, vinegar, onions, salt, sugar, and pepper to a boil. Combine the oil, rendered bacon fat, and mustard with the warm potatoes. Pour the boiling broth-vinegar mixture over the potatoes. Toss in the crumbled bacon and chives.
4. The salad may be served warm, at room temperature, or chilled.
Download and print the recipe here.
Sample German cuisine—and plenty of potatoes—when you join Grand Circle Cruise Line's The Great Rivers of Europe River Cruise.