Recipe: German Lebkuchen
Posted on 12/18/2018 12:00:00 AM in The Buzz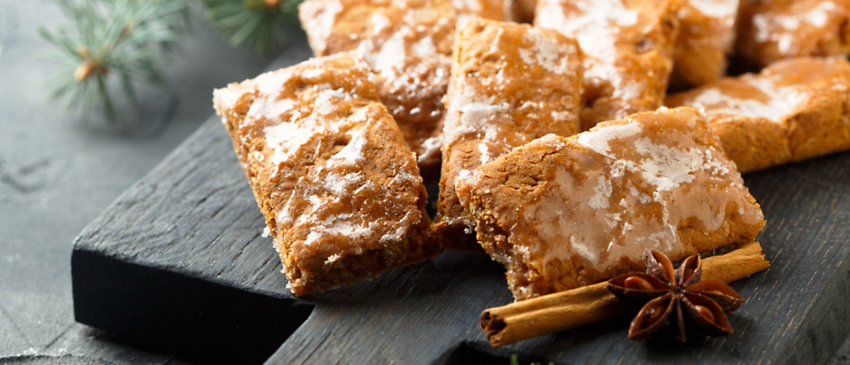 It calms your cough, soothes your sore throat, and even helps with seasonal allergies: The healing properties of honey have been extolled since ancient times, when the Romans, Greeks, and Egyptians believed it to be a gift from the gods. And it's one key ingredient in Germany's most beloved Christmas treat: lebkuchen, the precursor to all things gingerbread.
The origins of lebkuchen date back to the 14th century, when they were prepared by Catholic friars to accompany the copious amounts of strong beer consumed in monasteries. The spices were thought to aid in digestion, and cooks included any that were available—aniseed, cloves, cardamom, and even black pepper (which you'll still find in the occasional recipe).
Nuremberg sat at the crossroads of the trade routes where spices arrived from the Orient—and access to these spices made it the lebkuchen capital of Germany, a designation it bears with pride to this day. The honey, much more affordable than cane sugar from India, came from the Reichswald Forest, known as "the German Empire's bee garden." The cookies surged in popularity in 1487, when Emperor Frederick III invited thousands of children to his castle for a feast. Not one to be accused of humility, he gifted each one a lebkuchen imprinted with an image of his face.
Today, children of all ages in Germany look forward to lebkuchen every holiday season, and prepare it at home to share with family and friends. You can do the same with our recipe.
Lebkuchen
Ingredients for lebkuchen:
3 cups all-purpose flour, plus extra for kneading
1¼ teaspoons ground nutmeg
1¼ teaspoons ground cinnamon
½ teaspoon ground cloves
½ teaspoon ground allspice
1 egg
¾ cup light brown sugar
½ cup honey
½ cup molasses
Ingredients for glaze:
1 cup confectioner's sugar
2 Tablespoons water
1 Tablespoon lemon juice
Preparation:
Preheat the oven to 350°F. Grease two baking sheets or line with parchment paper.
Sift together the flour, nutmeg, cinnamon, cloves, and allspice. Set aside.
Beat the egg and sugar together on medium speed until light and fluffy (approximately 2 minutes). Scrape whipped eggs down the bowl.
Beat in the honey and molasses until completely combined.
On low speed, stir in dry ingredients until just combined.
Remove the dough from the bowl and place on a well-floured surface. Knead, adding more flour as you go, until a stiff dough forms.
Wrap the dough in plastic wrap and chill until firm (from 2 hours to overnight).
On a well-floured surface, roll out the dough into a 9x12-inch rectangle. Cut into 18 3x2-inch rectangular lebkuchen. Bake for 10-12 minutes.
Transfer the lebkuchen to a wire rack and let cool. Whisk together confectioner's sugar, water, and lemon juice, then brush or gently spread on top of the lebkuchen.
Allow glaze to firm, and then store the lebkuchen in an airtight container at room temperature.
Servings: 18 lebkuchen
Visit the "capital of lebkuchen" at its most festive when you join Grand Circle Cruise Line for Christmas Markets Along the Danube.