Recipe: French Soufflé
Posted on 10/24/2017 12:00:00 AM in The Buzz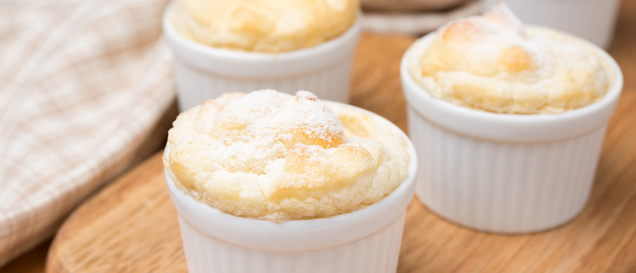 Chefs of all skill levels aspire to bake the perfect soufflé with a light and fluffy texture.
Creating the perfect soufflé with just the right amount of height is a difficult skill to master, even for the most experienced chefs. The French verb "souffler" translates to "breathe" or "puff," so the importance of the "puff" is quite literally in the name.
This egg-based dish dates back to France in the early 18th century and comes in both sweet and savory varieties. Failing to create the perfect soufflé is a common conflict depicted in many television shows, movies, or cartoons during which a character struggles because something in their surroundings—a loud noise, unexpected movement, etc.—disturbs the baking process. So how does one achieve soufflé perfection?
According to the professionals, the first rule of soufflé baking is to never, ever open the oven while it is cooking—doing so can deflate the entire thing. Other pieces of advice to keep in mind are: don't over-whisk the egg whites and also make sure to delicately fold the meringue into the custard with a wooden or plastic spatula.
This recipe from Epicurious yields a sweet soufflé and includes a special ingredient: Grand Marnier. You can watch the experts prepare it in a film following the recipe, and also download an easy-to-print PDF.
French Soufflé
Ingredients:
4 tablespoons (1/2 stick) butter, softened, plus additional for coating ramekins
1/2 cup sugar, plus additional for coating ramekins
1/2 cup all-purpose flour
2 tablespoons Grand Marnier
2 tablespoons simple syrup
16 small amaretti cookies
1 1/4 cups whole milk
1/2 vanilla bean
Preparation:
Preheat oven to 375°F. Generously butter ramekins and coat with sugar, knocking out excess. Bring large saucepan of water to boil.
In small bowl, stir together 4 tablespoons butter and flour to form paste.
In second small bowl, stir together Grand Marnier and simple syrup. Add cookies, tossing lightly to coat, and let soak while preparing remaining ingredients.
Transfer milk to large saucepan. Split 1/2 vanilla bean length¬wise and scrape seeds into milk. Add bean. Set over moderate heat and bring to boil. Remove from heat and whisk in butter-flour mixture. Return to moderate heat and cook, whisking consistently, until thickened and smooth, about 2 minutes. Remove from heat and whisk in egg yolks and 1 egg white. Transfer soufflé base to large bowl and discard vanilla bean. In second large bowl, using electric mixer, beat remaining 4 egg whites just until soft peaks form. Gradually beat in 1/2 cup sugar.
Whisk 1/4 of beaten egg whites into soufflé base to lighten. Gently but thoroughly fold in remaining whites. Spoon 1/2 of batter into ramekins, filling each halfway. (Alternatively, spoon batter into large pastry bag and pipe into ramekins.) Transfer 2 soaked cookies to each ramekin. Top with remaining batter. Arrange ramekins at least 1 1/2 inches apart in large baking pan and add enough hot water to pan to reach 2/3 up sides of ramekins.
Bake soufflés until puffed and golden, 20 to 25 minutes. Remove pan from oven and transfer ramekins to rack. Sift confectioners' sugar over, then transfer ramekins to dessert plates. With 2 forks, pull open center of each soufflé and pour some crème anglaise into opening. Serve immediately.
Watch the experts at Epicurious prepare this recipe in this film:
Download and print the recipe here >>
Give this recipe a shot in your own home or sample soufflés in their country of origin during Grand Circle Cruise Line's The Seine: Paris to Normandy River Cruise.