Recipe: Ecuadorian Locro de Papa
Posted on 3/5/2019 12:00:00 AM in The Buzz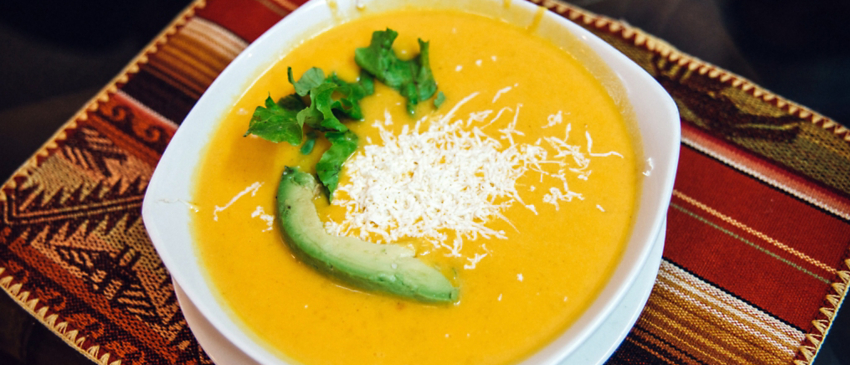 In Ecuador, nothing wards off the gloom of a snow day in the Andes like locro de papa. The bright saffron hue of this creamy soup makes it a pick-me-up in a bowl, and its hearty ingredients (potatoes, cheese, and milk, topped with avocado) give you plenty of fuel for the day. Mood elevator though it may be, locro de papa doesn't actually require bad weather: you'll find it served in every season and just about any time of day.
The popularity of the dish is not too surprising considering the role of potatoes in local culture: 4,000 varieties grow in the Andes, and Ecuador's own citizens consume almost a half million tons each year. The dish's other signature ingredient is annatto, a spice from the achiote tree. Earthy like nutmeg and mildly peppery, annatto is a key ingredient in South American cuisine, not only for its flavor but its color. Turning dishes vivid orange or red, ground annatto (sold as achiote powder) is the real reason the soup fairly glows.
While it is unknown just how long the people of Ecuador have been making this stew, its title offers a few clues. The name blends ancient and Colonial cultures, with locro being a variant of the Quechua word for soup, and papa being Spanish for potato. It is likely that some version of the soup has graced tables for more than 500 years. Today, any restaurant that offers comida tipica (traditional fare) will serve it and every home cook has her or his own recipe. Here's one of our favorites.
Locro de Papa
Worried you can't make the sunshine? The best places to find annatto seeds or achiote powder are Latin markets, Penzey's, or online spice shops. You can replicate the effect with a homemade substitute: ½ teaspoon sweet paprika, ¼ teaspoon turmeric, and a pinch of nutmeg = 1 tsp annatto.
Ingredients
2 Tbsp cooking oil
1 large onion, peeled and diced
2 garlic cloves, chopped fine
1 tsp achiote powder or substitute (see above)
2 tsp cumin
10 small or medium baking potatoes, peeled and cubed
7 cups water
1 cup milk
1 cup queso fresco or mozzarella, divided in half
1 bunch cilantro, chopped, divided in half
Salt and pepper to taste
4 ripe avocados, sliced
Preparation
In a large stock pot, heat the oil on medium, adding add the onions, garlic, cumin, and achiote powder.
Cook for 5-7 minutes, stirring frequently, until the onions are soft.
Add the potatoes, coating them with the vegetable and spice mixture, and cook for 5 more minutes.
Add the water and turn heat to high, bringing the water to a boil.
Reduce heat to medium and cook approximately 1 hour (or until the potatoes are very tender).
Mash the potatoes right in the pot and stir in the milk.
Reduce heat to low and cook for a further 5 minutes, whisking a bit. If it is too thick, add more milk a little at a time to achieve the desired consistency.
Add half the cheese, half the cilantro, salt, and pepper to the soup, stirring well.
Remove from heat and ladle into bowls. Top each bowl with avocado slices, cheese, and cilantro.
Discover all the flavors of the Andes and beyond when you join O.A.T. for our Machu Picchu & the Galápagos adventure.