Recipe: Easy Empanadas
Posted on 7/18/2017 12:01:00 PM in The Buzz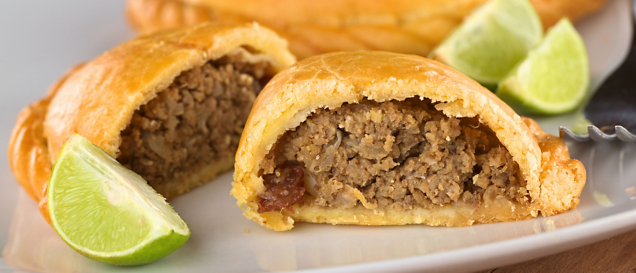 We encase our traditional beef filling in refrigerated pie crust for hassle-free empanadas.
Derived from the Spanish empanar, "to coat with bread," empanadas are a portable meal in themselves—which is one reason why they became so ubiquitous in Latin America. Traditionally, in the Galicia region of Spain, the dish was prepared as a large, single pie and cut into individual servings. When large numbers of Galician immigrants arrived in the Americas, they brought the beloved dish over with them—and eventually it evolved into single-serving pies that were hearty, filling, and easy for workers to carry with them each day.
Variations on the empanada are impossible to count—but while many South American countries are passionate about their national recipes, the Chilean filling known as pino is practically a part of the cultural identity. Don't fear the raisins in this recipe; they're just one building block toward a uniquely balanced flavor. Pino wouldn't be pino without them (though if you really dislike raisins, you can leave them out).
We did stray a bit from tradition: in lieu of lard, we use relatively heart-healthy olive oil, and we've substituted refrigerated pie crust for homemade dough for the sake of ease. Regardless, our empanadas Chilenas with pino are an authentic taste of Chile.
Empanadas Chilenas (Chilean Empanadas)
Ingredients
½ lb ground beef 1 Tbsp olive oil 1 large onion, diced ½ green bell pepper, diced 2 Tbsp garlic, minced ¼ cup pitted black olives, finely chopped 1 Tbsp flour 1 Tbsp allspice 1 tsp cumin ¼ tsp cayenne pepper 2 hard-boiled eggs, finely chopped 1/3 cup raisins 1 (15-oz) package refrigerated pie crust 1 egg, beaten Salt and pepper (to taste) Flour (for rolling)
Preparation
Preheat oven to 375°F.
Heat olive oil over medium heat and add onion, bell pepper, and garlic. Cook until the vegetables have softened (about 5 minutes).
Add ground beef and cook until just browned.
Add olives, flour, allspice, cumin, and cayenne. Cook, stirring occasionally, until mixture has begun to thicken (5 or 6 minutes). Season with salt and pepper to taste.
On a lightly floured board, roll out pie crust and cut into circles, about 3 inches in diameter.
On one half of each circle, place one level tablespoon of cooked filling. Sprinkle with a few raisins and chopped egg.
Brush the other half of the circle with the egg wash. Fold over and press to seal. Crimp edges with a fork.
Brush the top with egg wash and place on a large baking sheet. Repeat until filling is depleted.
Bake empanadas until golden brown, about 12 minutes.
Makes about 20 empanadas.
Seek out authentic empanadas—and much more—when you join O.A.T. for Chile & Argentina: The Andes to Patagonia.