Recipe: Cuban Ropa Vieja
Posted on 9/12/2017 12:01:00 PM in The Buzz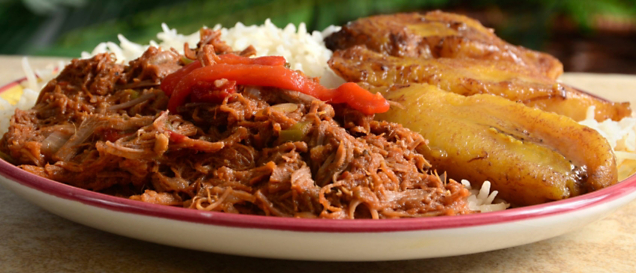 While beef is a rare treat for Cuban home cooks, ropa vieja is a beloved national dish.
A dish whose name literally translates to "old clothes" might not conjure the most appetizing comparison—but the moniker is the stuff of legend. As the story goes, a very poor man invited his family for dinner, but had no money to buy food to feed them. Desperate, he ripped up some old clothes and cooked them in a pot, praying for a meal to miraculously appear—all the while thinking about the love he had for his family. The clothes magically transformed into a savory beef and vegetable stew, with long shreds of meat and vegetables that actually do resemble tattered rags.
In reality, ropa vieja took a long journey to Cuba, beginning in Spain in the Middle Ages and eventually reaching the Canary Islands. There, home cooks prepare a potato and garbanzo-based version to stretch leftover meats or soups. Immigrants from the Canaries to Cuba brought their beloved dish with them, and Cuba made it their own. Rice, Cuba's most popular starch, took the place of potatoes. The garbanzos mysteriously disappeared. And flank steak became the protein of choice.
Today, beef is so tightly regulated by the government, it's a very rare treat for a Cuban home cook. Nonetheless, ropa vieja is considered an official national dish. This recipe comes courtesy of Epicurious. Keep scrolling to watch an expert prepare this dish on film, and to download an easy-to-print PDF.
Cuban Ropa Vieja
Ingredients
For braising beef:
3 pounds skirt or flank steak, trimmed
2 quarts water
2 carrots, chopped coarse
1 large onion, chopped coarse
2 celery ribs, chopped coarse
1 bay leaf
3 garlic cloves, crushed lightly
1 teaspoon dried oregano
1 teaspoon ground cumin
1 teaspoon salt
1/4 teaspoon whole black peppercorns
2 green bell peppers, cut into 1/4-inch strips
1 red onion, cut into 1/4-inch strips
4 tablespoons olive oil
2 cups braising liquid plus additional if desired
14- to 16-ounce can whole tomatoes with juice, chopped
3 tablespoons tomato paste
3 garlic cloves, minced
1 teaspoon ground cumin
1/4 teaspoon dried oregano
2 red bell peppers, cut into 1/4 inch strips
2 yellow bell peppers, cut into 1/4 inch strips
1 cup frozen peas, thawed
1/2 cup pimiento-stuffed Spanish olive, drained and halved
Accompaniment:
For yellow rice with toasted cumin:
2 tablespoons olive oil
2 teaspoons cumin seed
1/4 teaspoon crumble saffron thread
2 cups unconverted long-grain rice
4 cups water
3/4 teaspoon salt
Preparation
To braise beef:
In a 5-quart kettle combine all braising ingredients and simmer, uncovered, 1 1/2 hours, or until beef is tender. Remove kettle from heat and cool meat in liquid 30 minutes. Transfer meat to a platter and cover.


Strain braising liquid through a colander, pressing on solids, into a bowl. Return braising liquid to kettle and boil until reduced to 3 cups, about 30 minutes. Stew may be made up to this point 1 day ahead. Cool braising liquid completely and chill it and the beef separately, covered.


In kettle cook green bell peppers and onion in 2 tablespoons oil over moderate heat, stirring, until softened.


While vegetables are cooking, pull meat into shreds about 3 by 1/2 inches. To onion mixture add shredded meat, 2 cups braising liquid, tomatoes with juice, tomato paste, garlic, cumin, oregano, and salt and pepper to taste and simmer, uncovered, 20 minutes.


While stew is simmering, in a large skillet cook red and yellow bell peppers in remaining 2 tablespoons oil over moderate heat, stirring occasionally, until softened. Stir peppers into stew with enough additional braising liquid to thin to desired consistency and simmer, uncovered, 5 minutes. Stir in peas and olives and simmer, uncovered, 5 minutes. Serve ropa vieja with yellow rice.
To make the yellow rice:
In a heavy 3-quart saucepan heat oil over moderately high heat until hot but not smoking and sauté cumin seed 10 seconds, or until it turns a few shades darker and is fragrant.


Stir in saffron and rice and sauté, stirring, 1 to 2 minutes, or until rice is coated well.


Stir in water and salt and boil rice, uncovered and without stirring, until surface of rice is covered with steam holes and grains on top appear dry, 8 to 10 minutes more.


Remove pan from heat and let rice stand, covered, 5 minutes. Fluff rice with a fork.
Serves 8
See the experts from Epicurious prepare this recipe in this film:
Download and print the recipe here.
Seek out authentic Cuban cooking when you join us for Cuba: A Bridge Between Cultures.