Recipe: Aussie Meat Pies
Posted on 4/10/2018 12:01:00 PM in The Buzz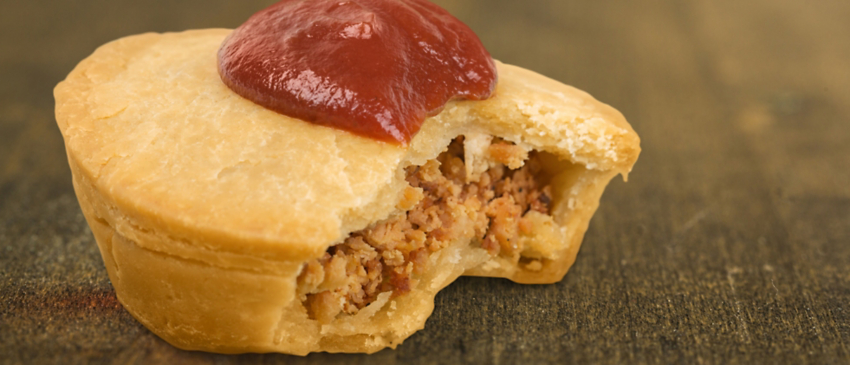 Pop quiz: What do you call a seven-course meal in Australia?
Answer: A pie and a six-pack.
The pie, of course, refers to the meat pie: perhaps the most iconic Aussie snack food. While the concept of meat-filled pastry is a British invention that dates to medieval times, Australians have embraced the dish and made it their own, consuming "hand warmers" by the truckload at football, rugby, and cricket matches. Informal debates rage around whether the tomato sauce (read: ketchup) should be chilled or at room temperature, and applied bite-by-bite or all at once.
In 1990, the gauntlet was officially thrown down at the first Great Aussie Meat Pie Competition—now an annual event. The goal, according to its website, is "to provide a national platform for quality pie improvement, product innovation, and skill enhancement." Media coverage after a win can launch a previously unknown producer into a million-dollar business.
While the old-fashioned minced beef and gravy will always reign supreme, federal law dictates that the "meat" in a pie can be beef, buffalo, camel, deer, hare, rabbit, sheep, or even kangaroo—and can include snouts, ears, tendons, and tongue. By law, every commercially sold pie must contain at least 25% meat—and skimping will not win a pie any awards in official competition: points are awarded for a higher meat-to-pastry ratio.
Australian Mini-Meat Pies
This recipe makes about 12 individual pies in a standard-sized muffin tray—a perfect size for a snack or appetizer. You can scale it to fit any pie pan you'd like; just adjust the size of the crusts accordingly.
Ingredients
2 Tbsp olive oil
1 onion, diced
1 lb 80/20 ground beef
1 Tbsp cornstarch
3/4 cup beef stock
1/4 cup ketchup
2 tsp ground black pepper (or to taste)
2 Tbsp Worcestershire sauce
1/3 cup barbecue sauce
1 tsp Vegemite or Marmite (optional)
2 sheets frozen pie dough
1 sheet frozen puff pastry
Salt, to taste
1 egg, beaten
Ketchup, for serving
Preparation:
Heat oil in a large skillet over medium-high heat. Sauté onion until softened, then remove. Brown the ground beef in batches, taking care to not overcrowd the pan. Return all beef and onion to the pan, and season to taste with salt.
In a small bowl, mix cornstarch and a splash of stock to form a paste.
Add stock, ketchup, pepper, barbecue sauce, Worcestershire, and Vegemite/Marmite (if using) to the skillet.
Add cornstarch paste and stir to combine. Reduce heat to low and simmer until thickened, 10-15 minutes.
Preheat oven to 420 degrees Fahrenheit.
While beef mixture cools, cut the dough for the pie bases and lids. If using a muffin tin, you'll need 12 4-inch circles of pie dough and 12 2-inch circles of puff pastry. Use a small plate, tin can, or cup as a guide.
In a non-stick muffin tray, line each tin with a circle of pie dough, pressing down gently. Fill each with beef mixture, and top with puff pastry, "gluing" the top to the base with a bit of water on your finger.
Brush the tops with egg wash and bake for 25-30 minutes or until golden brown.
Serve as the Aussies do: topped with ketchup!
Tuck into Aussie meat pies and other local treats when your join us for Australia & New Zealand: An Adventure Down Under.