Recipe: Argentine Beef Milanesa
Posted on 6/2/2020 12:00:00 AM in The Buzz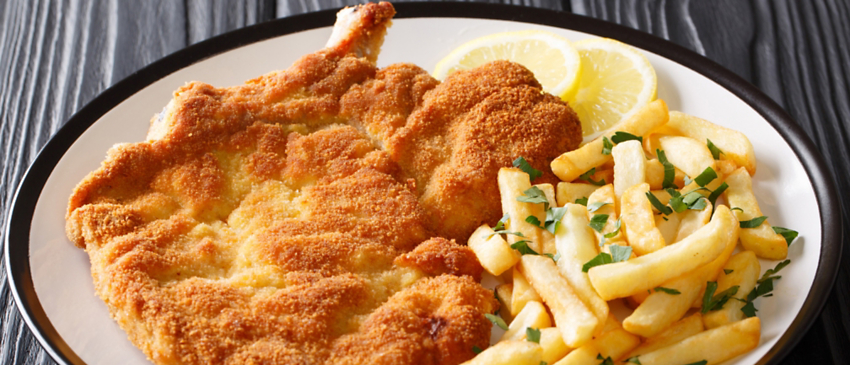 Often considered the unofficial dish of Argentina, milanesa is a meal that combines Argentina's love for meat with their heavily Italian-influenced cuisine. Based on the Italian dish, veal Milanese, this version is a favorite for its thinly-sliced beef, golden on the outside and tender on the inside.
The dish was first introduced by Italian immigrants who came to Latin America during the mass immigration of the late 19th and early 20th centuries. Today, more than 90% of the Argentinean population is of European descent, so the Italian influence on its cuisine and culture remains strong.
Milanesa name comes from the traditional recipe of northern Italy, cotoletta alla Milanese (veal Milanese), and is much like the Viennese variety, Wiener schnitzel. Now a favorite in Argentina as well as in Paraguay, Uruguay, and Bolivia, South American milanesa consists of prime beef, poultry, veal, or pork dipped in beaten eggs, topped with bread crumbs, and lightly fried in oil. The result is a deliciously tender, yet crispy meal.
Depending on what you have available in your kitchen, you can top your milanesa with a variety of additions to make it extra tasty. Squeeze some fresh lemon on the meat, try it caballo (on horseback) by placing a fried egg on top, make it Neapolitan-style by adding tomato sauce and cheese, or smother it with chimichurri sauce. To enjoy it like those in Buenos Aires, serve the milanesa alongside French fries, mashed potatoes, or a green salad.
Ingredients
2 lb. beef tenderloin, thinly sliced (about ½ inch thick)
2 eggs, beaten
1 lb. bread crumbs
2 cloves garlic, chopped
3 tbsp chopped parsley
Salt
Black pepper
Vegetable oil
Instructions
Trim excess fat from slices of beef. Soften it slightly with a meat mallet.


Mix garlic and parsley with beaten eggs. Add salt and pepper.


Dip the slices of beef in the beaten eggs. Then set aside in a cool place for 45 minutes.


Pour vegetable oil in a pan over medium-heat.


Generously cover each beef slice in the bread crumbs.


Fry the beef in oil for a few minutes on each side and until it is golden.


Remove from pan and place on a plate lined with paper towels.
Taste authentic milanesa when you join us for Chile & Argentina: The Andes to Patagonia.