Recipe: A Taste of the Greek Isles
Posted on 7/11/2017 12:01:00 PM in The Buzz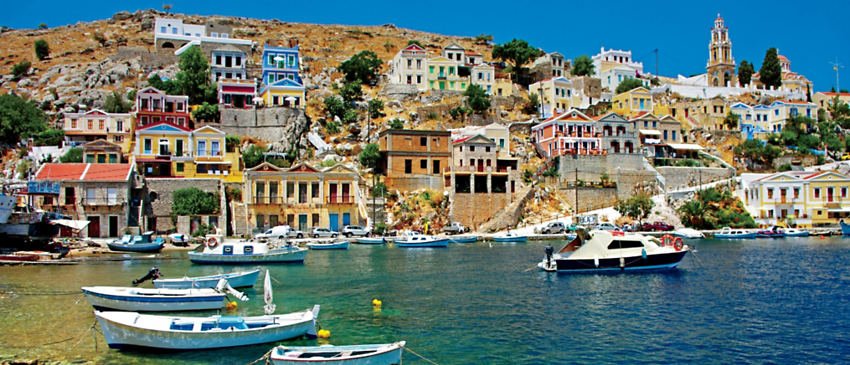 When it comes to the cuisine of Greece, the most common ingredient to any dish is typically olive oil. Produced prominently throughout the country, olives and olive oil are found in the preparation of everything from grilled meats to salads. Seafood is also abundant—especially along the coast and on the islands.
Located just off the southwestern coast of Turkey, the Greek island of Symi is a seafood lover's paradise. Because of its saltwater surroundings, the obvious choice when in search of a meal or a snack is evident: a dish called Symi (micro) shrimp—a favorite among both locals and visitors to the island. These tiny, crimson crustaceans are boiled or fried—including their roe—and are lightly sauced to let the true essence of the shrimp shine through.
Traditionally, the Symi shrimp are eaten whole—shell and all, similar to a soft-shell crab. This may not be the norm for most—but it's nonetheless a treasured delicacy on the island. In fact, Symi shrimp are available in every single restaurant. If you happen to find yourself on Symi, after getting used to eating the entire shell, this traditional delicacy will quickly become a fast favorite. For those of us here in the U.S., however, we've adapted the recipe to use easy-to-find peeled and deveined shrimp. It's still a wonderful summer dish with the traditional flavors of Greece.
Symi-Style Shrimp
Ingredients:
1 pound raw shrimp, shelled and deveined
1/3 cup extra virgin olive oil
½ an onion, chopped
2 garlic cloves, minced
¼ cup fresh parsley, finely chopped
3-4 medium tomatoes, chopped
1 bay leaf
½ teaspoon dried basil
1 teaspoon dried oregano
½ teaspoon sesame oil
½ teaspoon salt
½ cup crumbled feta cheese
10 black olives
Juice from ½ a lemon
Preparation
Preheat oven to 450 degrees F. Heat the olive oil in large skillet over medium high heat and add garlic and onion, cooking until onion is translucent.
Add tomatoes, parsley, basil, oregano, bay leaf, salt, and sesame oil to the skillet. Simmer for 5 minutes. Remove from heat and toss in the shrimp. Transfer mixture to a baking dish.
Top with feta, then black olives. Squeeze lemon juice on top and bake for 15 minutes. Serve immediately.
Serves 4
Perhaps you'll have the opportunity to sample true Symi shrimp—shells and all—when you join our Aegean & Mediterranean: A Voyage from Athens to Jerusalem Small Ship Adventure.