Palermo Street Food Party
Posted on 2/21/2017 12:01:00 PM in The Buzz
While in Palermo, be sure to set aside some time to skip the local restaurants and dine on street eats instead.
Anthony Bourdain once said, "In Palermo, street food is deadly serious." The dishes you may buy from a corner vendor along an old Sicilian street are going to be every bit as delicious as a meal prepared in a high end restaurant. You can take advantage of the trend of "small plate" meals that is sweeping the culinary world, by preparing one, two, or all three of these street food favorites. Pair your creations with your favorite red wine and you're all set for an appetizer party.
Mangia e bevi
The snack known as "eat and drink" in Palermo is a requirement for picnics and evening strolls through a market—and it's perfectly simple to prepare.
Ingredients:
12-18 slices of bacon
12 scallions (green onions)
Salt
Lemon juice
Preparation:
Wrap a slice (or slice and a half if needed) of bacon around a scallion, barber pole style, from end to end. Repeat for all the scallions. Sprinkle with salt.
Lay the scallions on a grill and cook, turning occasionally, until the bacon is cooked and crispy along the edges. Alternately, lay the scallions on a rack set in a cooking sheet and bake in the oven at 400 degrees until cooked.
Remove from oven, slice each wrapped scallion into 1-2 inch sections. Squeeze lemon juice lightly over the plate and serve.
Arancini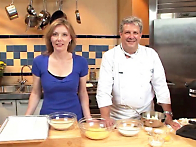 These classic crispy, fried rice balls may be filled simply with cheese (as we do here) or with sauces or vegetables.
Ingredients
For the balls:
2 large eggs
4 cups cooked rice, cooled
½ cup grated parmesan cheese
2/3 cup breadcrumbs
For the filling:
2 Tbsp pine nuts, toasted
1/2 cup shredded mozzarella cheese (2 ounces)
1/2 cup shredded fontina cheese (2 ounces)
2 Tbsp chopped fresh parsley
For the coating:
¾ cup additional bread crumbs
Canola oil or vegetable oil
Preparation:
Make the cheese filling: combine pine nuts, mozzarella, fontina and parsley in a bowl; set aside.
Make the balls: Beat the eggs in a large bowl, then stir in the cooled rice, the parmesan, and 2/3 cup breadcrumbs. Shape the mixture into sixteen 1 ½ -inch balls.
Press your finger into the center of each rice ball to make a well; insert 2 teaspoons of the mozzarella/fontina mixture, then pinch the rice around the filling to enclose.
Put the remaining breadcrumbs in a shallow bowl. Roll the balls in the breadcrumbs and place on a parchment-lined baking sheet. Loosely cover and refrigerate, at least 1 hour or overnight. (Pro tip: If you refrigerate overnight, roll lightly in fresh bread crumbs just before cooking.)
Heat an inch of oil in a large saucepan over medium heat until a deep-fry thermometer registers 350 degrees. Fry 3-5 rice balls at a time, turning, until golden brown on all sides (4-5 minutes). Remove with a slotted spoon and drain on paper towels; season with salt.
Crocchè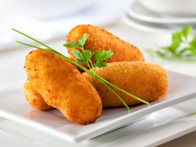 These savory potato croquettes may be eaten by themselves or added to a sandwich with chickpea fritters.
Ingredients:
4 cups mashed potatoes, cooled
2 eggs, beaten
½ tsp chopped parsley
½ cup finely grated parmesan
½ cup mozzarella cheese, diced into cubes
½ cup + 2 Tbs bread crumbs
Salt and pepper to taste
Vegetable oil for frying
Preparation:
Mix potatoes, eggs, parsley, parmesan, salt, pepper, and 2 Tbs of bread crumbs.
Scoop a full tablespoon of the mixture for each croquette, and flatten into a rectangle similar to a domino; lay a few cubes of mozzarella on the rectangle, then use fingers mold the potato mixture around it into a torpedo-like shape. Repeat for all croquettes.
Spread the bread crumbs in a plate. Roll each croquette in bread crumbs until coated all over.
Fill a heavy pot with an inch of olive oil and heat to 350 degrees. Fry 6 at a time until they are golden brown, then remove with slotted spoon.
Served sprinkled with parmesan and, if desired, marinara sauce for dipping.
Compare your handiwork to the delectable offerings you'll find in Palermo as you discover Sicily's Ancient Landscapes & Timeless Traditions with O.A.T.
You may also like…
How to Make Sicilian Arancini di Riso
See arancini in action with Epicurious in this film.
Where in the World?
Where does paper sound like a gunshot in a prison named for a tyrant-king?
True Taste of Italy: Authentic Pasta Bolognese
Work up an appetite and learn how to make traditional Bolognese sauce.