Our Top 10: Trends for 2018
Posted on 6/27/2017 12:01:00 PM in The Buzz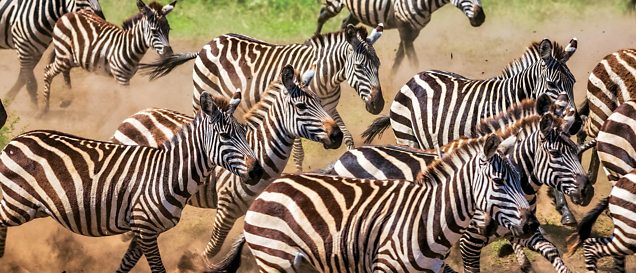 Wild herds of zebras are among the many species of wildlife you'll discover during Ultimate Africa: Botswana, Zambia & Zimbabwe Safari—which is currently our #1 travel trend for 2018.
We recently announced 2018 departure dates for our O.A.T. adventures, Small Ship Adventures, River Cruises, and Grand Circle vacations—so we're paying close attention to where our travelers are planning to go next year. Our trends change every week, but here's a snapshot of the most popular trips that our travelers are reserving right now.
Hwange • Kafue • Chobe • Okavango Delta • Victoria Falls Optional extensions: 4 nights in Thornybush Game Reserve; 4 nights in Cape Town & the Cape of Good Hope
From world-famous Chobe National Park to the lush Okavango Delta, from Africa's spectacular big game to its colorful local cultures—this is the ultimate African safari. You'll observe elephants in Chobe National Park … enjoy a warm welcome when your small group visits a village near Hwange National Park … feel the rumble of Victoria Falls roaring in the distance … and exchange stories with your travel companions around a fire under a star-filled sky. Experience small lodges and tented camps, game-viewing drives and guided walks with our sharp-eyed Trip Leaders, and local village visits.
ABOARD A HURTIGRUTEN NORWEGIAN COASTAL VOYAGE SHIP Norway: Oslo, Flam, Bergen, Alesund, Trondheim, Rorvik, Bodo, Svolvaer, Tromso, Kirkenes • Finland: Ivalo, Helsinki Optional extensions: 4 nights in Copenhagen, Denmark; 3 nights in Stockholm, Sweden
Following in the wake of the Vikings who settled this northern wilderness, you and your small group of no more than 25 will board an authentic 400- to 1000-passenger Hurtigruten steamer ship. An active part of Norway's maritime heritage, Hurtigruten's fleet regularly sails into local harbors to deliver supplies and travelers to hard-to-reach towns. Cruise along Norway's coast near the top of the world—crossing the Arctic Circle—and step ashore to discover small, colorful cities and quiet fishing villages. Sail through majestic fjords, carved by glaciers throughout the Ice Age. Then disembark your ship to explore the Lapland region.
Casablanca • Rabat • Fez • Sahara Tented Camps • High Atlas Mountains • Marrakesh • Casablanca Optional extensions: 5 nights in Tangier, Chefchaouen & the Berbers of the Rif; 4 nights in Essaouira & Casablanca
Morocco enthralls even the most experienced adventurer. Tradition infuses its labyrinthine medinas. Village oases seem to rise from the desert, mirage-like. And the mighty Sahara, a timeless sea of sand, stretches to infinity. In the intimacy of our O.A.T. small group, we'll meet Moroccan people, experience their traditions, and taste the secrets of their flavorful cuisine. We'll discover the beauty of mosques and sample regional specialties during Home-Hosted meals. And to get a true feel for the mighty Sahara that has so decisively shaped this culture, we'll camp amidst its dunes for two unforgettable nights—and even explore by camel.
ABOARD OUR PRIVATELY OWNED 140- TO 164-PASSENGER SHIPS Belgium: Antwerp, Ghent • The Netherlands: Veere, Kinderdijk, Rotterdam, Arnhem, Enkhuizen, Amsterdam Optional extensions: 3 nights in Bruges, Belgium; 3 nights in Amsterdam, the Netherlands; 3 nights in Berlin, Germany
With departures in March and April only, the cruising season for this unforgettable River Cruise is brief—so travelers reserve early for the chance to celebrate the fleeting beauty of springtime. Marvel at over 70 acres of colorful flowers in the world-famous Keukenhof Flower Park, only open from mid-March until mid-May. Delve into the region's extensive WWII history in cities like Arnhem, the Netherlands; get a taste of daily life during a Home-Hosted Visit in Enkhuizen; and enjoy a behind-the-scenes tour of the Kinderdijk Windmills.
Reykjavik • Stykkisholmur • Akureyri • Selfoss Optional extensions: 3 nights in Iceland's Westman Islands; 4 nights in Greenland: Gateway to the Arctic
This O.A.T. adventure showcases Iceland's natural beauty and Viking heritage from a truly Icelandic perspective—through its inhabitants. Meet hardy locals who carve a living from both the land and sea in farming communities and fishing villages. Discover the history of this isolated nation preserved in a series of enchanting medieval tales known as the Sagas. In the beautiful capital city of Reykjavik, witness the creativity of a city that harnessed the power of nature to provide sustainable heat and electricity to its inhabitants. Raft on the Hvita River, watch for whales, and journey to within 40 miles of the Arctic Circle at Akureyri.
Lisbon • Évora • Carmona • Ronda • Úbeda • Madrid Optional extensions: 5 nights in Porto: Northern Portugal's Romanesque Gem; 7 nights in Bilbao & Spain's Northern Coast
Spain and Portugal are home to extraordinary beauty and untold remnants of a tumultuous past. We'll chart our own course for discovery in these ancient lands while staying in intimate Portuguese pousadas and Spanish paradores, restored historic inns—from castles and convents to manor homes and monasteries—that evoke the glory of an earlier era. We'll also dine with a Spanish family in their home, tour a Portuguese vineyard and wine estate, and learn about the history of bullfighting at a ranch in Ronda, a medieval town perched high above a plunging gorge.
Arusha • Tarangire • Oldupai Gorge • Serengeti National Park • Ngorongoro Highlands & Crater Optional extensions: 4 nights in Kenya's Masai Mara Game Reserve; 3 nights in the Foothills of Kilimanjaro, Tanzania; 5 nights in Zanzibar, Tanzania
In the Serengeti plains, Thomson's gazelle, buffalo, and elephant vie for survival here amidst grand backdrops, such as magnificent Tarangire National Park, and Ngorongoro Crater, a twelve-mile-wide, 2,000-foot-deep caldera. Travel to Tanzania and explore it all, as our expert driver-guides help you seek out the most elusive game. Immerse yourself in the local culture through rewarding visits to schools and villages. At night, retire to unique and varied lodgings, including a four-night stay at our O.A.T. private tented camp in the Serengeti, where delicious cuisine and first-rate service close out each day of discovery.
ABOARD OUR PRIVATELY OWNED 140- TO 162-PASSENGER SHIPS Hungary: Budapest • Slovakia: Bratislava • Austria: Vienna, Krems • Czech Republic: Cesky Krumlov, Prague Optional extensions: 3 nights in Budapest, Hungary; 5 nights in Berlin & Dresden, Germany; 5 nights in Warsaw & Krakow, Poland
Join us on our New & Enhanced Danube River Cruise Tour in 2018 and discover the storied capital cities of Hungary, Slovakia, Austria, and the Czech Republic on this comprehensive four-country journey. Witness the detailed Art Nouveau architecture of Budapest … explore Bratislava's quirky art scene … taste the local flavors of Vienna's famed Naschmarkt ... and stroll along the fairytale streets of Old World Prague. En route, you'll cruise through the stunning Wachau Valley outside picturesque Krems, and visit the impressive Gottweig Abbey, one of Austria's longest-running Benedictine monasteries.
Milan • Tirano • Franciacorta • Verona • Bressanone (Dolomites) • Bassano del Grappa Optional extensions: 4 nights in Genoa & Cinque Terre; 4 nights in Venice
Witness the awe-inspiring landscapes and cultural treasures of Northern Italy on a journey from the fashion capital of Milan and romance of the Lombardy Lakes to the snow-covered Alps and towering pinnacles of the Dolomites. Along the way, meet fishermen and farm families, see what puts the sparkle in Franciacorta wines, and experience the legends of the Ladins, a unique culture hidden deep in the valleys of the Dolomites. And ride through the majestic Alps into Switzerland aboard the legendary Bernina Express, one of the world's most breathtaking rail journeys.
Palermo • Mazara del Vallo • Piazza Armerina • Ragusa • Catania Optional extensions: 5 nights in Puglia: Italy's Undiscovered Heel; 5 nights in Calabria: Southern Italy's Heartland
Traveling in Sicily is to discover an Italian island with more than 3,000 years of history. Experience the isle's full enchantment on a journey from the bustling streets of Palermo and striking Greek temples of Agrigento to the Baroque beauty of Ragusa and Catania. Hear the rumbling groans of Mount. Etna. Visit quaint fishing villages. And discover Sicily's rural authenticity with a night in an agriturismo—a traditional farmhouse.