Lights for Life in Tanzania
Posted on 10/10/2017 12:00:00 AM in The Buzz
Frank Calenda and his group had the honor of installing the very first set of life-saving solar lights at a Maasai boma in Tarangire, Tanzania.
In November of 2016, we shared a story in The Inside Scoop from Sandra Vaughan, a Project Manager for Grand Circle Foundation, about using flashing solar lights to prevent wildlife attacks in Maasai villages—you can read the original story here. After a recent visit to Tanzania, Harriet Lewis was so impressed by the success of the project, she asked us to share an update. Here's the incredible story of what's happened since.
Livestock is literally the livelihood of the Maasai people of East Africa. So when Sandra Vaughan, Grand Circle Foundation's Project Manager, learned of rampant lion and hyena attacks on Maasai bomas in Tarangire, Tanzania, she desperately wanted a solution. Not only were valuable cattle and goats being killed, but the Maasai in turn sought revenge by killing the lions. Was there a way to protect both livestock and wildlife without further bloodshed?
The solution was brilliantly simple: install flashing lights around livestock enclosures to ward off predators at night. And literally overnight, once lights were in place, livestock killings in those homesteads ceased.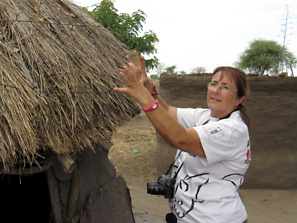 In 2016, Harriet Lewis visited Sandra in Tanzania. Upon hearing of the situation with the Maasai—and the seemingly foolproof solution—she donated $10,000 to install more lights in the villages of Tarangire, Tanzania, and Amboseli, Kenya, both of which are supported by Grand Circle Foundation. Sandra was aware of a local organization that sold battery-powered lights made specifically for warding off lions—but they would cost $500 per boma. She came up with the ingenious idea of using solar-powered Christmas lights for a fraction of the price.
Frank Calenda, a 12-time traveler from Indian Harbour Beach, FL, organized a group to travel with O.A.T. to Tanzania that same year. They happened to arrive in Tarangire on the eve of the first installation of solar lights—and Sandra Vaughan was there to greet them. "At the meeting," Frank remembers, "Sandra asked if we would like to be the first O.A.T. group to install a set of lights in our trip to one of the bomas. Everyone was thrilled and off we went, armed with several packs of the cattle- and predator-saving lights. We evaluated the job at hand and started stringing the lights." No more animals would be lost in the boma after that day.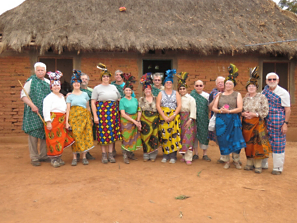 After the installation was complete, Sandra had someone she wanted the group to meet—someone who put a very real face on the issues facing modern-day Maasai. Lemukua is a Maasai elder who not only lost all of his sheep and goats in a hyena attack, but he was mauled himself by a lioness, suffering a devastating wound to his leg. The group entered the hut and gathered around the injured man.
Michelle Ryan of Melbourne, FL, who joined Frank on her first O.A.T. trip along with her mother, remembers the meeting vividly. "He really clicked with my mother," she says. "He looked at her and smiled." Quickly, though, the focus shifted to Lemukua's leg. "Others in the group had some medical experience," says Michelle, "and we all thought it looked infected."
That night, while waiting in line for the buffet at the lodge, Frank struck up a conversation with a guest from Germany—who happened to be an orthopedic surgeon. Frank showed him photos he had taken of Lemukua's leg. "The surgeon said, 'That's gangrene,'" Michelle remembers. "He said that man needed antibiotics right away, or he's going to die."
The group rushed to tell their Trip Leader, Godliving, who immediately contacted Sandra Vaughan. Sandra was able to get Lemukua to a doctor in Arusha in time for the antibiotics and amputation that saved his life. As it turned out, the gangrene had spread to the bone. Were it not for Frank's chance meeting with the German surgeon, Lemukua would not have survived.
Upon returning to the U.S., Michelle regularly emailed Sandra for updates on Lemukua. "It was really important to us that he get back to his family," Michelle says. She asked about the medical bills, which had been partially covered by a local religious organization. "We learned that there was $300 left unpaid," says Michelle. Between herself, her mother, and a neighbor, Michelle paid off the balance. "We wanted him to have peace of mind," she says. She continues to stay in touch with Sandra, using the name Godliving gave her in Africa: Twiga, which means "giraffe" in Swahili. Why giraffe? "Because giraffes have 25-pound hearts," Michelle says. "I cried when he told me that."
Fortunately, there's been much to warm the heart in Sandra's latest updates. Lemukua had been having trouble using crutches, and had fallen once during a heavy rain. A nurse suggested a walker, which Michelle would have been happy to donate, but shipping one to Tanzania was far too expensive. In August, when the 2017 class of Next Generation Leaders visited East Africa, they presented Lemukua with the gift of a walker—yet another happy chapter in a story that could have been tragic. Today, he is safe, healthy, and raising a new herd of goats and sheep. As Sandra reports, after one of her many follow-up visits, "He has happy eyes."
Since the project began in 2016, 117 Maasai bomas have been fitted with lights—and the project has a 100% success rate. On behalf of Harriet and everyone at O.A.T., thanks to all of our travelers whose generous donations have made it possible to light the way in Tarangire and Amboseli. Sandra hears it from the Maasai every day: "Please, please: more lights." With her passion and determination, the future looks bright.
If you're visiting East Africa with O.A.T. and would like to support this endeavor, we encourage gifts of solar lights. Sandra prefers a brand called Litom, which can be purchased on Amazon. Two strings are all it takes to protect one boma. You can also make a donation to Grand Circle Foundation, specifically earmarked for solar lights, with our secure online form. Thank you for your generosity.
You can see the work of Grand Circle Foundation firsthand in the village of Tarangire when you join O.A.T. for Safari Serengeti: Tanzania Lodge & Tented Safari.