Jacinda Ardern: The Power of Kindness
Posted on 7/7/2020 12:00:00 AM in The Buzz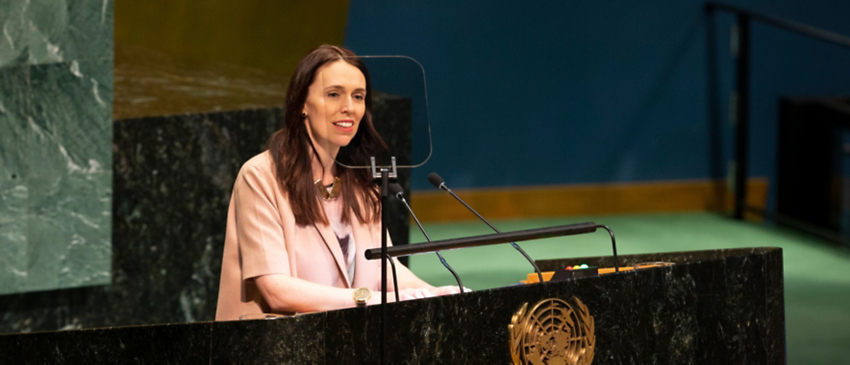 On June 16, a little over a week after New Zealand declared itself free of coronavirus and lifted its lockdown restrictions, two British sisters visiting the country tested positive. Prime Minister Jacinda Ardern quickly took action—and responsibility.
She acknowledged the "unacceptable failure of the system," which allowed the women a "compassionate exemption" to leave their mandatory quarantine early, without undergoing the two requisite negative tests, to visit a dying relative. She made no excuses, and outlined the measures she was taking to avoid repeating the incident—namely, appointing the military to oversee all quarantine, auditing processes, and tracing more than 300 people who may have come into contact with the cases.
While the setback dealt a painful blow after the country's recent triumph, Ardern insists that she will not allow it to undo her country's hard work. And when she refers to "the gains we have all made," she speaks not just of the government, but the entire nation of New Zealand—her "team of five million," as she calls them. Because from the very beginning of this pandemic, Ardern has stressed that they were all in it together. This no doubt went a long way toward convincing a nation—one with very few positive cases—to comply with one of the strictest lockdowns undertaken in the world.
From the moment she appeared on Facebook in a cozy green sweatshirt, having just put her daughter, Neve, to bed, Ardern's leadership style during the pandemic garnered worldwide attention. She spoke to her country as if she were conversing with a friend. She urged people to be kind, and promised frequent communication—a promise upon which she delivered.
But to focus too much on her kindness does Ardern a disservice—because it is just one aspect of what makes her leadership so effective. In response to coronavirus, she quickly took action, banning travel from China and closing New Zealand's borders earlier than countries with many more cases. She expanded testing and contact tracing. And she deferred to the knowledge of scientific experts, balancing her friendly Facebook messages with daily briefings that focused on facts.
And while her critics believe her response was too severe, the people of New Zealand think otherwise. In an April poll, 88% of New Zealanders said they trusted the government to make the right decisions around COVID-19, and 84% approved of the government's response.
The daughter of Mormon parents, Ardern first joined New Zealand's Labour Party in 1999 at the age of 17, before graduating college. By age 28, she was the youngest member of the House of Representatives. And in 2017, she was named party leader—the same year the country was poised to elect a new Prime Minister. Her progressive views, charisma, and optimism energized voters, who were ready for a change after nine years of conservative National Party rule. On October 26, 2017, she was sworn in at age 37—the world's youngest head of state at the time.
In 2018, she made history yet again when she became only the second head of government to give birth while in office. In response to critics who questioned her ability to balance her duties with parenting, Ardern made it clear that by returning to work, she simply took on a challenge similar to the one new mothers face every single day. She humbly asserted that while her situation adds a "layer of interest" due to her position, she was glad to continue the job that she was elected to do, and intended to get "straight back into it." She also declared that one day, her situation will be the new normal, with more and more women ascending to global leadership positions.
After the terrorist attacks on two Christchurch mosques in 2019, Ardern returned to the headlines with her eloquent and compassionate response. She directly addressed the attackers, stating, "You may have chosen us, but we utterly reject and condemn you." She did not shy away from citing racism and Islamophobia as the reason for the attack, and in determining how to move forward, she met with Muslim leaders and asked them how they felt she should act.
And act, she did. She made immediate and sweeping changes to the country's gun laws, banning all assault rifles and military-style semi-automatic weapons.
In September of 2020, New Zealand voters will go to the polls—and time will tell whether Ardern's coronavirus response will be enough to get her reelected. Critics doubt whether she can rebuild the economy after the country's severe shutdown. But the latest opinion polls rank Ardern as the most popular Prime Minister in a century at 59.5%—while the National Party dropped to 30.6%. For the woman who describes her leadership style with one word—"kindness"—the future looks bright.
See how real New Zealanders feel about Ardern as Prime Minister when you join O.A.T. for Pure New Zealand.