Foundation Update: Leaders Who Inspire Us
Posted on 12/17/2019 12:00:00 AM in The Buzz
Grand Circle Foundation and the Lewis Family Foundation have a long history of giving back: to the places where we travel, to the people who live there, and to the city of Boston and communities around the world where we live and work. Grand Circle Foundation together with the Lewis Family Foundation has pledged or donated $200 million throughout the world in locations including Africa, Asia, South Pacific, Europe and the Americas. Many of the projects the Foundation supports are, quite literally, in the path of our travelers, while many more are much closer to home.
None of this work would be possible without the support of strong leaders, who offer guidance in choosing the projects that will have the most impact where we live, work, and travel. From providing clean water and renewable energy to preserving our planet's natural treasures, these are just a few of the leaders who inspire us right now—and who are helping to change people's lives.
Doc Hendley, Founder and President, Wine to Water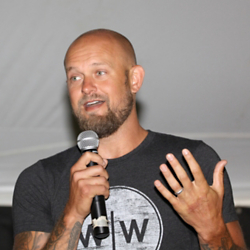 Doc Hendley dreamed up the concept of Wine to Water while bartending and playing music in nightclubs around Raleigh, NC. In February 2004, Doc held his first fundraiser. And by August, he was living halfway around the globe in Sudan, Africa installing water systems for victims of the government-supported genocide.
"I've not only seen how devastating it is for communities to not have access to safe water, but more importantly I've seen what happens in a community once they receive safe water for the first time. Infant and child mortality plummets. Economic status in the community skyrockets because the time spent gathering water or money spent taking care of sick children is no longer an issue. Absences from school and work all but disappear. All these things together allow for an immediate transformation in each village or community where we've worked."
— Doc Hendley
Josh Ewing, Executive Director, Friends of Cedar Mesa
When Josh Ewing left a six-figure, 80-hour-a-week job in advertising, he had no intention of entering the nonprofit world—until he and his wife moved to southeastern Utah and discovered San Juan County. He shares the journey that led to his joining the fight to protect Bears Ears National Monument.
"We work to ensure that public lands here in San Juan County, Utah, are respected and protected. We do that through on-the-ground stewardship projects, educational outreach, research, archaeological site monitoring, and advocacy. San Juan County is the most archaeologically rich county in the U.S. The Bears Ears region is central to the future of conservation in the United States under the Antiquities Act, so we're in the middle of the hottest fight in conservation right now. And even when that fight's over, this is internationally significant public land. It's a lifetime project to ensure that it's protected."
— Josh Ewing
Shelley Silbert, Executive Director, Great Old Broads for Wilderness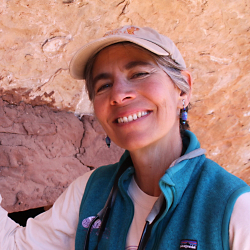 Inspired by her mother, a biology teacher, to love nature, Shelley Silbert worked for the Nature Conservancy and Northern Arizona University before looking for an organization where she could do more activism around issues relating to public lands and climate. Today, she is the Executive Director of Great Old Broads for Wilderness, a 30-year-old national grassroots organization led by women with the purpose of engaging and inspiring activism to preserve and protect wilderness and wild lands. The Lewis Family Foundation is proud to host the organization's annual training program at its Alnoba headquarters this spring.
"I believe women have something unique to contribute to the protection of our lands and waters. I think that women's voices have not been heard enough, and we have not been in leadership roles in conservation policy. And yet we have such an important role to play. We have a different view, in general, of how to interact with Mother Nature. We take the long view—for generations and generations to come."
— Shelley Silbert
Melina Laboucan-Massimo, Founder, Sacred Earth Solar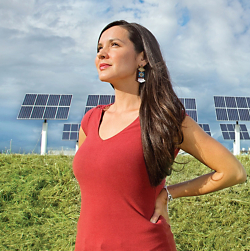 Melina Laboucan-Massimo, a Lubicon Cree from Northern Alberta, Canada, has worked on social, environmental, and climate justice issues for the past 15 years. Her organization, Sacred Earth Solar, empowers frontline Indigenous communities with renewable energy as they seek to protect their homelands from becoming fossil fuel extraction zones.
"When I was seven, my community blockaded the road into our territory because oil and logging companies were coming into our homeland without the consent or permission of the people who live there. As I grew up, I saw the societal, human, and environmental impact of the changing landscape. We live in the ancient boreal forest, which is the northern lungs of Mother Earth. Not only does the boreal forest help us combat climate change, but it is extremely important to us culturally as Indigenous peoples. Seeing the landscape change so drastically made me know that I had to dedicate my life to this work. If we don't do it, who will?"
— Melina Laboucan-Massimo
Eulin Chacon, Principal, San Francisco de Chachagua School
Grand Circle Foundation has partnered with the San Francisco Chachagua School to create a sustainable microfarm that not only feeds 184 students breakfast, lunch, and sometimes even dinner, but it also impacts the entire community with its surplus food supply and lifelong lessons in sustainable agriculture. As the principal of the school for 21 years, Eulin Chacon has been a leader in making the microfarm a success.
"The microfarm is a piece of heaven. It is an open classroom where children learn about food security, climate change, and formal educational experiences, coupled with an environment full of recreational activities. The purpose of the microfarm is to offer a different kind of education to future generations of this country—helping them to be leaders and owners of their own businesses, and empowering them to be agents of change."
— Eulin Chacon
Jennifer Seavey, Executive Director, Shoals Marine Laboratory
Shoals Marine Laboratory (SML) serves as the marine station for both Cornell University and the University of New Hampshire. As SML's John M. Kingsbury Executive Director, Jennifer Seavey oversees its operations and is a faculty member of both institutions.
"One of the most valuable things that field stations like SML offers to the world is long-term data sites with the infrastructure and consistency for monitoring over time. SML started in 1966, and some of our database started at the beginning. The sea surface of the Gulf of Maine is warming faster than 99% of the world's oceans, so this is ground zero for looking at ocean changes from climate change. We're so lucky to have decades of data for everything from algae to marine mammals and birds, water quality, toxicology—all of those things I mentioned. Over decades, the patterns emerge."
— Jennifer Seavey
To learn more about the work of Grand Circle Foundation and the Lewis Family Foundation, and see more leaders who inspire us, visit www.grandcirclefoundation.org.