Foundation Update: Feeding Families During COVID-19
Posted on 12/1/2020 12:00:00 AM in The Buzz
Throughout the COVID-19 crisis, Grand Circle Foundation has been working with local organizations around the world—and here at home—to assist families struggling to put food on the table. Here is a summary of the feeding programs we've supported with the help of our generous travelers and donors.
Victoria Falls, Zimbabwe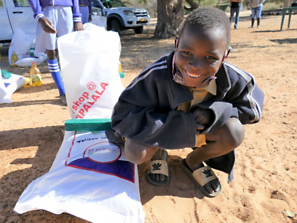 Victoria Falls, Zimbabwe, has been particularly hard-hit without the income provided by tourism. We have donated a total of $25,000 to support feeding programs in Victoria Falls, including $15,000 to feed 1,000 students at four rural schools for three months.
Grand Circle Foundation worked with Children in the Wilderness, the non-profit arm of our long-time partner organization in Zimbabwe, to purchase food packs for students sponsored by the Foundation in Victoria Falls and the village of Lukosi. The contents of these packs include maize meal, sugar beans, rice, salt, peanut butter, cooking oil, soya chunks, and soap, and are enough to provide for one child for a month. Combined with the family's food at home, the food pack provides much needed nutrition during this difficult time.
Also in Victoria Falls, the Foundation and Children in the Wilderness have partnered with Wild Horizons to feed 1,269 people—including both students and teachers—at two schools in the Chidobe Ward area. A single donation of $15,000, from a donor who wishes to remain anonymous, made this project possible. O.A.T. representatives in Zimbabwe met with local officials to determine how best to distribute the funds.
The donation purchased 12 tons of an instant nut porridge approved by the ministry of health to provide adequate nutrition to stave off hunger. Between August and September of 2020, each recipient received four packs per person per month, with each one providing seven meals per adult and 14 per child.
Guatemala City, Guatemala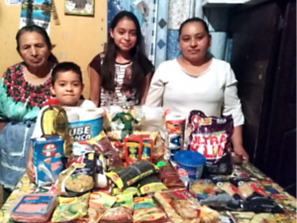 Since 2014, Grand Circle Foundation has supported the Safe Passage School in Guatemala City. Run by a local nonprofit, the school serves families who previously made a living by picking through the city's garbage dump, looking for anything of value they can resell. Due to extreme poverty, many of the area's adults and children are illiterate.
The more than 550 children enrolled in this program can attend the full-day Safe Passage school through the second grade. Then, they receive financial assistance to cover the cost of public school enrollment, school supplies, and uniforms, as well as hot meals, homework help, medical care, and sports and art programming. The nonprofit also assists the children's parents and families by providing them with access to adult literacy and social entrepreneurship programs.
In March, Safe Passage suspended its operations due to government regulations regarding COVID-19—which has had a significant economic impact on the students and their families. And while Safe Passage had concerns that their out-of-work participants would once again resort to scavenging the garbage dump to earn an income, even this is impossible because the dump has also been shut down. To make matters worse, prices of food and household items have drastically increased.
A Grand Circle Foundation grant, funded by donations from our generous travelers, has helped to provide nutritious food for these families during this incredibly unstable time. Every two weeks, Safe Passage distributes gift cards to the 425 families supported by the organization, which are used to purchase groceries at the local market. Our contact at Safe Passage assures us that the families are only purchasing specially selected items to feed their families, chosen to guarantee proper nutrition. Our donation fed 425 families with an average of 5 members for two weeks.
Pocosol and San Juan de Penas Blancas, Costa Rica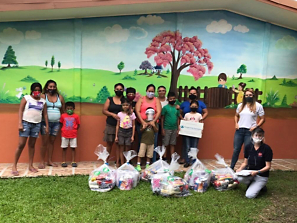 As tourism has stopped all over the world, communities everywhere have been affected, but especially in countries such as Costa Rica, where the tourism industry represents 6.3% of gross national product. Stopping tour operations directly determines the family's income, decreasing significantly their resources, and affecting students and their families. The majority of families have very little savings, if any, and are unable to provide for even their most basic needs.
Located in Alajuela Province near the border of Nicaragua, the Santa Esperanza School in Pocosol, Costa Rica, began partnering with Grand Circle Foundation in 2019. Our first priority was to build the school a new classroom—but we never could have predicted the impact a global pandemic has had on this community. In addition to the classroom, which was completed in September, we supported a food program at Santa Esperanza and the nearby community of San Juan de Penas Blancas. A total of 50 food baskets are providing much-needed supplies for 37 families. The baskets were delivered during the second week of August, third week of September, and last week of October.
Utah, Arizona, and New Mexico
In honor of Indigenous People's Day in October, the Foundation partnered with our trusted friends Doc Hendley, founder of Wine to Water; Josh Ewing, Executive Director, Friends of Cedar Mesa; and an extraordinary Navajo leader, Janine Yazzie to provide clean water, food, and PPE to Native communities who were devastated by COVID-19.
Josh Ewing works to protect the Bears Ears National Monument, land sacred to the Navajo, Ute, Hopi and other indigenous communities. Thanks to Josh's leadership we were able to provide food and PPE to Hopi, Zuni and other smaller tribes in Utah, Arizona, and New Mexico.
We were then introduced to Janene Yazzie, who is an extraordinary leader from the Navajo Nation who works to develop projects, programs and policies that promote sustainability, environmental justice, and self-governance. Janene co-founded the first Navajo Nation community-led watershed planning program for local control in the sustainable management, restoration, and protection of natural resources.
Before the first case of COVID was diagnosed, Janene knew it would devastate her community. When Alan and Harriet asked Janene how we could help the Navajo, her answer was swift: provide clean water, particularly expanded water storage for the most vulnerable households and repairs to unrestricted community wells. The Navajo Nation is the size of Connecticut, and 30-40% of households do not have running water.
When it comes to addressing the need for clean water, there's no one like Doc Hendley. Doc was a bartender whose provocative dream of ending water-related death and disease led to the founding of Wine to Water.
We connected Doc and Janene. Doc cut right to the chase. "What can we do right now that will help most?" he asked Janene. The answer was getting water filters directly to families in need. Doc agreed to source filters and press for donations and discounts from his partners. Janene agreed to provide a list of 500 households and their water profiles.
We appealed to our travelers and donors to join us in this effort. As of this writing, we've raised a total of $105,860, $50,000 of which was matched by Grand Circle Foundation for a total donation of $155,860.
Boston, Massachusetts
As the COVID-19 crisis began to peak in the Boston area, the bleakest news came from local communities of color. Through the Lewis Family Foundation—which oversees Grand Circle Foundation—Alan and Harriet have long supported the work of local organizations in Dorchester, Roxbury, and Mattapan to help bridge the educational and economic gaps between those neighborhoods and other neighborhoods in the city.
We are proud to partner with Doug Rauch at the Daily Table, an innovative nonprofit grocer dedicated to providing fresh, tasty, convenient, and nutritious food to communities that face food insecurity. We reached out to our travelers and donors to invite them to join us in supporting Doug in his mission. Together, we raised $34,777 from 258 donors—$20,000 of which was matched by Grand Circle Foundation, for a total donation of $54,777.
Our gift helped deliver food to more than 700 families of students aged 5 to 15 in the Dudley neighborhood of Roxbury and Grove Hall in Dorchester. The average net worth of these families is $8—yes, just $8—and most families live paycheck to paycheck. The cost to feed a family of 4 for one week is $34, and each delivery includes rice, beans, leafy greens, chicken, and fresh produce. This is meant to provide one full meal per person for 7 days, versus a supplemental box that assumes families have some ingredients on hand (which is what other boxes typically are).
To learn more about the mission of Grand Circle Foundation or to support its projects around the world, visit www.grandcirclefoundation.org.