Foundation Update: Building Community in Bangkok
Posted on 9/12/2017 12:01:00 PM in The Buzz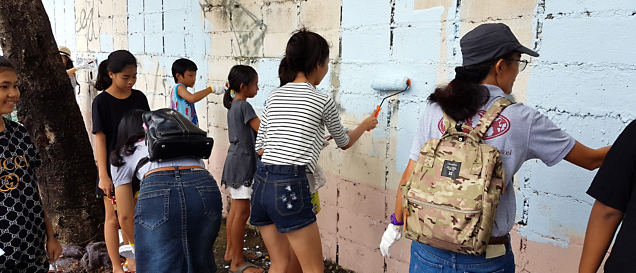 Residents of the Klong Toey slum joined the O.A.T. team in making much-needed improvements to their community.
By Krisda Dhiradityakul, Operations Coordinator, Thailand
Our Southeast Asia team's annual Community Service Day took place in Bangkok this year at the Klong Toey slum community, where the poorest people in Bangkok live in ramshackle construction surrounded by drugs, gangsters, and poverty.
Initially, the community requested outdoor exercise equipment, and we agreed to develop a proposal. However, after our inspection and discussion with the community leaders, we learned that the community needs more basic facilities before we spend our budget on outdoor equipment. Moreover, the community could not ensure the property would be maximally optimized and utilized. After discussion with community leaders, and the government officer who supervises any project in the community, we decided to revise our plan and to implement the following: 1) paint the walls of the community sports building in the community recreational area; 2) repair the leaking roof of the public sports building; 3) expand the rubbish storage for community sanitation and hygienic condition; and 4) donate tables and a fan for the community to organize communal activities.
The roof reparation at the site had been commenced by local construction workers a day prior to our Community Service Day. However, painting the wall and cleaning the sports area was begun together by the O.A.T. team and community members. With the help of community members from all walks of life, the painting began at around 9:30am and finished around noon. Both O.A.T. Trip Leaders and community members would enjoy lunch together today. In addition, a waste storage facility has also been constructed to ensure community sanitation and hygienic conditions would be improved.
After lunch, the community thanked the O.A.T. team and we said goodbye to continue our journey. It's a great day to recognize the people who live in this slum by visiting them and learning from them about their lives. It is great that we bring our Trip Leaders here to meet, talk, and recognize the community for their warm and friendly hospitality. The work we have done today for the community will improve their quality of life.
Meet the people of Southeast Asia and learn firsthand about their lives during Ancient Kingdoms: Thailand, Laos, Cambodia & Vietnam.