Flying Solo: Annie Londonderry
Posted on 9/29/2020 12:00:00 AM in The Buzz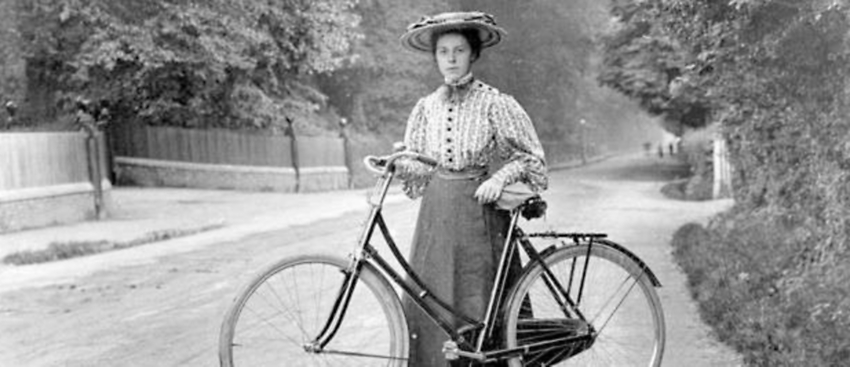 In September 1895 quite the sight unfolded in Chicago when 24-year-old Annie "Londonderry", a wife and mother of three, rode into town on a men's bicycle and wearing a men's riding suit. With a broken wrist and a pearl-handled pistol in tow, Annie became the first woman in history to bike around the world. In the midst of the women's suffrage movement, her gutsy feat helped squash assumptions that women were incapable of accomplishing such a physically demanding challenge.
Born Annie Cohen in Riga, Latvia in 1870, her family immigrated to Boston when she was five years old. Her childhood and early adulthood were not much different than most other women of that time. She married at the age of 18 to a peddler named Simon Kopchovsky and had three children. But by 24, her life changed when she took up a bet between two wealthy Boston businessmen.
The bet stated that if Annie could successfully circle the globe by bike in 15 months while earning $5,000 along the way, she'd win $10,000 (over $300,000 today). Some argue that the bet never actually existed and that Annie had concocted the wager in order to sensationalize her story and draw intrigue from around the world. Either way, the story of a woman journeying by bike brought a slew of international reporting and fans.
The bike was a relatively new phenomenon at the time, and for women, it was especially significant. It offered newfound freedoms from a typically housebound existence—not to mention, the rise of bloomers for bike riding gave women a chance to shed their heavy skirts. Suffragette Susan B. Anthony even said that biking "has done more to emancipate women than anything else in the world."
In order to earn the additional $5,000, Annie agreed to serve as a traveling billboard with sponsors paying for placards on the rear of her bike. The first was New Hampshire's Londonderry Lithia Spring Water Company which paid her $100 for a spot, and henceforth gave her the nickname of Annie "Londonderry." In June of 1894, she set off from the Massachusetts State House towards Chicago on a 42-pound Columbia bike wearing a long, heavy skirt and corset.
By the time she made it to Chicago, she had lost 20 pounds and realized she could not make it across the United States before the winter's snowfall. Instead of downright quitting, she decided to turn back towards the east coast and then hitch a ride on an ocean liner to Europe. She ditched the skirt for bloomers (eventually wearing a men's riding suit) and bought a men's bicycle which was 20 pounds lighter than hers with only one gear and no brake.
Because the wager didn't state a minimum biking distance, Annie took some creative liberty and frequently sailed from place to place while biking only on day trips in between. After making her way through Europe, she sailed through Asia and visited cities like Alexandria, Saigon, and Shanghai along the way. Her journey was nothing short of easy as she frequently faced thieves and plenty of biking accidents that come along with riding a bike with no brakes. Through her months on the road, reporters documented her adventures which captivated fans far and wide.
After taking a ship from Japan to the U.S. west coast, she completed her journey to Chicago, winning the wager with two weeks to spare. While some now will say that Annie didn't truly "bike around the world," her adventure still took lots of guts, resilience, and strength. Her astonishing story is surely the last thing the world expected at that time, but that fearlessness helped move the needle for all future women travelers.