Out of the Office: More than Machu Picchu
Posted on 12/17/2019 12:00:00 AM in The Buzz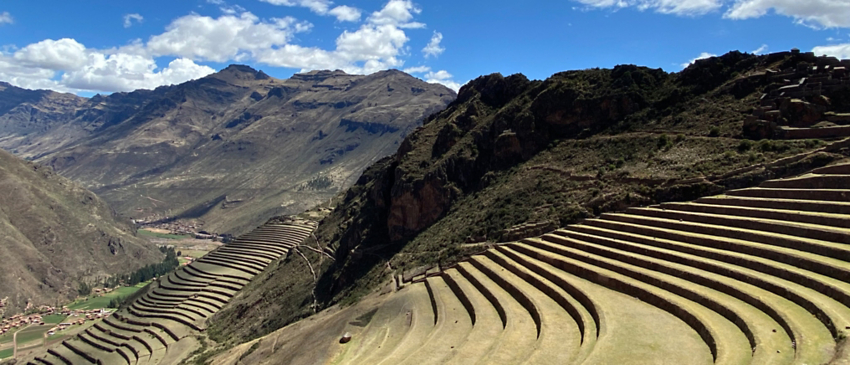 At O.A.T., we encourage our associates to travel as much as possible—because it helps inform the work we do, regardless of our role in the company. Recently, Laura C. from our marketing department experienced our Real Affordable Peru adventure, along with several of her coworkers. Here, she shares her impressions.
By Laura C., Creative Director, Relationship Marketing
Before I went on this trip, everyone asked about Machu Picchu. More than any other place I've been, Peru seemed widely defined by one signature highlight. I knew the country had so much more to offer—but I did not know what to expect. I also worried that after all I'd heard and read, Machu Picchu might not live up to the hype.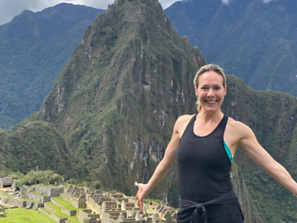 Having returned, I realize that some places in this world truly deserve their must-see status—because Machu Picchu, without question, is worthy. But to distill this adventure down to one single experience—no matter how amazing—would do a huge disservice to Peru. I came away with a deep appreciation for the richness of the Quechua culture … the drama of the Andes mountains … and the "other" Inca sites of Pisac, Ollantaytambo, and Sacsayhuaman.
Introduction to the Incas
Of these sites, Pisac came first on our adventure, and I vividly recall the breathless turn that revealed it. I say "breathless" because at this altitude, even the shortest hike left my heart pounding. My intense fear of heights did not help. But as soon as I saw the terraces carved into the plunging hillside, ringed by stone buildings and surrounded by mountains, I forgot my apprehension. In fact, I appreciated the effect of the altitude because it forced me to do something that has never come naturally to me: slow down, stop, and spend time taking it in. A caracara falcon flew right past us, so close I could see the markings on its wings.
I was pleasantly surprised by the lack of crowds at Pisac. We crossed paths with a few other visitors, but we had one little corner of the ruins largely to ourselves. My heart, no longer pounding, gave me the familiar swell that accompanies my "pinch-me-am-I-really-here" moments. I had arrived on sacred ground.
A Quechua welcome
At Pisac, I fell in love with the handiwork of the Incas—and Urubamba began my love affair with the Peruvian people and their culture. At a local primary school, children taught us the legend of Tupac Amaru, a Quechua leader who defeated the Spaniards on behalf of indigenous people, only to be captured, tortured, and killed in the main square of Cuzco. As a folk hero, Tupac enjoys near-godlike status, immortalized in a famous poem that every Peruvian learns in school. "Y no podran matarlo!"—"And they won't be able to kill him!" The children bellowed this refrain with youthful enthusiasm—and I hoped they would grow to take pride in their Quechua culture, which the Spanish never defeated.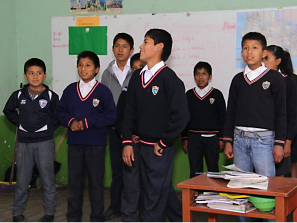 For lunch, a five-foot tour de force named Berta welcomed us into her kitchen—and promptly put us to work. Never in my own home would I take the time and effort to hand-shell tiny lupini beans, but I happily did so for Berta. I also let my diet fall by the wayside and helped to batter and deep-fry chili rellenos, following Berta's lead. No regrets: They were delicious. Squash soup, guacamole, and yes, roasted guinea pig … ceviche might be one of all-time favorite foods (and I ate a lot of it), but this was the best meal of the entire trip.
Before leaving Urubamba for Machu Picchu, we gathered with a Quechua curandero for a healing ceremony. Ciro, our Trip Experience Leader, translated as the curandero placed several symbolic objects onto a piece of newspaper—many of them modern interpretations of items his ancestors might have used: dried alphabet soup for all of our names, animal crackers for livestock, glitter for the stars, confetti for happiness. "Happiness," he said, "is the very end of our existence."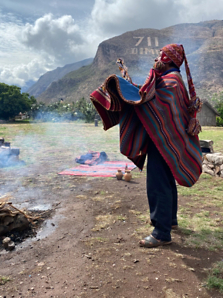 Blowing on a triad of coca leaves, we each appealed to the mountain gods for protection, and handed our leaves to the healer to complete the elaborate pile of artifacts. He tied the bundle tightly and placed it on an open flame as an offering to Pachamama—Mother Earth. "I cannot promise it won't rain at Machu Picchu," the healer told us, "but I can promise beauty."
Believe the hype
I dare any traveler, no matter how cynical, to greet Machu Picchu with anything less than awe. Photos cannot capture the feeling of that first look—you know the one—with the entire site spread before you. To think, first, that humans actually built this … and then to realize that other humans would have gleefully destroyed it had they been given the chance? Few places have moved me to tears—but Machu Picchu did. Thankfully, the llamas provided comic relief.
We visited twice: first for touring in the afternoon, and then the next morning for hiking and free time. Pachamama came through for our first day, with picture-perfect blue skies and the occasional fluffy cloud. The rains, in typical fashion for November, came the following morning, during my hike to the Sun Gate. I could not be disappointed after our initial luck—and I found beauty in the ethereal quality of the clouds and fog as they gradually dissipated.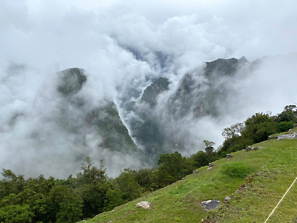 On my way out of Machu Picchu, I kept looking back. I wanted my last look to stay burned in my brain. As I moved with the crowd, I planned to turn one more time, to take a long moment to let it sink in…
But when I turned back, Machu Picchu had been completely consumed by fog.
I choose to believe that my last look hasn't happened yet. Not of Machu Picchu, and not of Peru itself—with surely more wonders I have yet to discover.
Experience a land of rich cultural traditions and archaeological treasures beyond Machu Picchu when you join O.A.T. for Real Affordable Peru.