A Saturday Well Spent
Posted on 10/17/2017 12:00:00 AM in The Buzz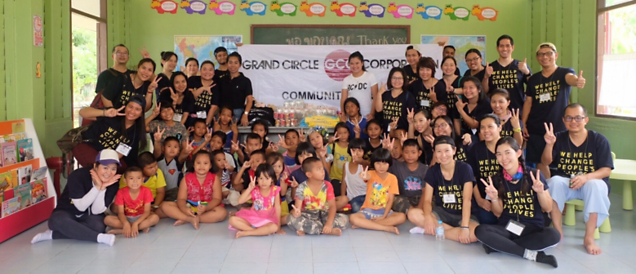 Associates from our Bangkok office worked alongside the children of Wat Nong Bua School to renovate the school's library.
By Khem Maspiyawong, Product Manager, Southeast Asia
Led by Khanh Truong, O.A.T.'s Vice President in Southeast Asia, nearly 30 associates from O.A.T.'s Bangkok office spent a Saturday in September renovating the library of Wat Nong Bua School in Ratchaburi Province, about 100 miles southwest of Bangkok. As a small school with only three teachers teaching 45 students from kindergarten to grade 12, Wat Nong Bua is short of modern facilities and attractive learning materials, despite being relatively close to Bangkok. The school infrastructures are contradictorily poorer and in need of renovation. The students are from poor families whose parents work in farms and factories nearby. The revitalization project implemented by Grand Circle Foundation brings appropriate books for young children and creates a more conducive learning environment for students.
The day started early with our team divided into four groups to complete this mission. These four groups include a team painting the wall, a team painting the old bookshelves, a team installing new shelves and setting up table sets, and a team decorating and improving the kids' corner. With financial support from Grand Circle Foundation going toward the new wall, books, toys, shelves and table sets, O.A.T. associates also put their hands to work on renovating the library together with schoolchildren.
The sweltering heat and humidity in Ratchaburi did not seem to stop or even hinder the dedication of our associates and the school kids, who eventually completed all of the tasks. The team of children and associates were rewarded by a delicious homemade lunch of Thai noodles with green curry dressing, fried vegetables, and seasonal fruits. Lots of joy from our achievement was revealed through the smiles of kids and teachers.
After lunch, all associates and kids bonded by playing games and offering gifts, toys, and supplies. Late in the afternoon after several competitive games, it was time for our associates to say goodbye to the schoolchildren, who were still very competitive and wanted to continue. Our associates expressed gratitude to all students, teachers, and villagers. The school principal also took this opportunity to express how much the community appreciated our contribution, dedication, and determination to improve the children's lives. We took a group photo, gave the kids a hug, and bid them farewell. Our hearts are growing bigger and bigger every year with our mission to give back to society. Thank you to all associates who participate in this mission.
"It was a great opportunity for us to support these kids. We got to learn how easily we can motivate our younger generation in Ratchaburi Province. We mingled with them by decorating the library room, playing games, and painting the cabinet. Then we had a great lunch together afterward. Overall, it was an unforgettable experience!" — Ketline Theresia
"Loads of credit must firstly be given to all those who put time and effort into finding the school that needed change. Changing people's lives is what we do. We were given a great opportunity to serve the underprivileged students of Wat Nong Bua school. The opportunity to serve the school has enabled us to bond through the activities that we did together—be it painting the room, making new boards, constructing new furniture, or eating and playing games with the kids. This can only have a positive impact on us all. We learned new ways to work as a team with people we are hardly in contact with; we learned new ways of appreciating each other's effort. This was where all the small things created their meanings which eventually led to a very successful community service." — Preecha Kandhi
See firsthand how Grand Circle Foundation supports the younger generation in Southeast Asia when you visit a local school during Ancient Kingdoms: Thailand, Laos, Cambodia & Vietnam.