Question of the Month: November
Write a love letter to one of your favorite places in the world.
While we're missing travel more than ever, what would we say to the cities and countries that have a particularly special place in our hearts? We suspect that our travelers' favorite places—and the people who call them home—are missing them, too.
Time Was Too Short
Dear Milan,
I was so excited that you were the first stop on my June 2018 trip to visit northern Italy with O.A.T.
I had never been to Milan but I had long been planning to visit as many of the sites on my list as would be possible in the allotted time we would spend in Milan. Unfortunately, the time was too short. We were taken on a tour inside LaScala Opera House and it was an excellent and appreciated visit. If there had been more free time in Milan, I would have purchased a ticket to see a performance there. I wanted very much to see Leonardo da Vinci's mural painting of The Last Supper in the church of Santa Maria delle Grazie but time in Milan was short and an advance reservation was required to visit there. I did manage to visit the Brera Gallery to see the Mantegna painting which I had studied in my art history class. There is an amazing feeling that overwhelms me when I see anything I have learned about no matter where in the world it is located. I guess that is why I travel as much as, and as fast as I can.
I read an interesting non-fiction book about Milan's suffering during the war and I felt your pain at all of the devastation and suffering you experienced at that time. So, Milan, I want to spend more time with you to see all that you have to offer. I shall return.
Thanks to: Ann Klemstine, 21-time traveler from Quarryville, PA • Northern Italy, the Alps, Dolomites & Lombardy
---
Born Free to Follow Your Heart
My Dearest Kenya,
I fell in love with you long before we met, in 1974. Your wildlife enchanted me as a child on television, in the movies, or visiting the zoo. Never in my wildest dreams could I imagine I'd be tracking lions in the Masai Mara, floating over camp in a hot-air balloon, swimming in the Indian Ocean off Mombasa, or surrounded by a herd of elephants.
On my second safari in 1982, I greeted you with tears of joy, because I felt that I was finally returning home. As the saying goes, "home is where the heart is," and I realized then, that I had truly given my heart to you. I began my quest to share your beauty, and all that made you "my Africa." In the following years, I introduced nearly 40 people to my favorite country of the more than 90 countries I've visited.
We criss-crossed your diversified landscape, from Samburu and Maralal in the north, to Tsavo and Amboseli in the south … from the Aberdare mountains to the Indian Ocean, and many places in between. The lakes of Baringo, Nakuru, and Naivasha were covered with thousands of pink flamingos. The early morning frost left the tall grasses encased in dew that sparkled like diamonds in the sunlight. In 1988, while visiting Meru, we were allowed the privilege of interacting with five white rhinos, protected in a fenced area. Sadly, within weeks of our return home, we learned that all of them, as well as their armed guards, were killed by poachers. Only a year later, George Adamson was murdered by bandits in nearby Kora. His wife Joy met the same fate nine years earlier. Deep sadness gripped me, as I recalled the Adamson's story of Elsa the lioness in the movie, "Born Free."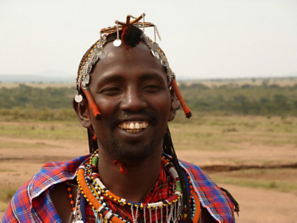 In my six safaris, you allowed me a glance at Mt. Kilimanjaro across the Tanzanian border. Though the dust-devils of Amboseli were plentiful, we managed a glimpse of the snow-capped mountain, once the air was clear again. The Masai Mara (your jewel in the crown) welcomed us with rolling green hills, deep blue skies, and white clouds so close we felt we could touch them. Our days in the park provided every animal we could hope to see – sometimes up to 27 lions at one time! And then you introduced us to your people – the Masai, whose young warriors were cloaked in red blankets.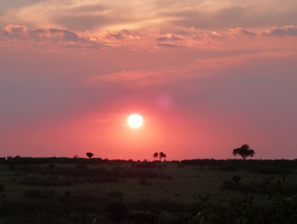 From your majestic sunsets, to your warm, friendly people, all that is you has taken my breath away – so much so that, at times, I feel a heaviness in my chest that moves me to tears, and reminds me of the words from the song "Born Free" … "Live free, and beauty surrounds you, the world still astounds you each time you look at a star … stay free, when no walls divide you … born free, and life is worth living, but only worth living, because you are born free."
Thanks to: Bonnie Mack, 6-time traveler and 1-time Vacation Ambassador from Clearwater, FL • The Best of Kenya & Tanzania
---
Arrivederci … But Not Forever
Dear Firenze,
I fell in love with you on our first date in 2017. I'll never forget your warm greeting that made me feel comfortably welcomed, but later I was fascinated, not only by your beauty, but also by your amazing culture. You showed me the birth of the Renaissance, the beginning of civilized living and so much more. As the days passed, I knew I was falling in love with you. When it came time to leave, I promised you that I would return.
When I arrived home, I became passionate about studying your culture to better appreciate your beauty and teachings.
In 2018, when I saw you again, I was spellbound by your artistic masterpieces, but I also wanted to spend more time enjoying your other delights: your wonderful Tuscan cuisine, your amazing local wines and, of course, your gelato—the world's best. Again, time passed much too quickly and we had to say "arrivederci."
So, until we meet again, and we will Firenze, I will always love you.
Affectionately yours,
Don
Thanks to: Donald Starkey, first-time traveler from Hanover, PA
---
Summer, St. Petersburg
You, city of strong-shouldered buildings,
Petersburg—canal-veined, voiced
with bells, you wear your bridges
like ornaments, your domes
and steeples like crowns.
But it's your people I'll remember—
the man in tweed on the sidewalk today,
laughing, playing his horn to the startled street;
the sweet-faced guide on stiletto heels
balancing her smile;
the cafe owner opening his flat last week
to our sweaty overflow of writers, strangers;
the school psychologist in the marketplace,
summer income hinged on lacquered boxes;
the ragged tenor on the footbridge,
sending his notes spiraling with gulls;
the child begging in the churchyard, his round face
orbiting my moving world like a moon;
the boat loads reveling on the Neva,
drunk on the light of white nights.

And the thin ghosts of Leningrad
still walk here, too.
I'll remember them, their stories,
how they urge the living
to savor the borscht,
comfort the child,
and take note
of this day's
blue, blue sky
over the Finsky Saliv.
Thanks to: Clela Reed, 3-time traveler from Athens, GA
---
Starkness, Sparkle, Stillness
Dear Antarctica,
How fondly I remember meeting you almost six years ago. You were bright and beautiful and so unexpected. I fell in love with your starkness, your sparkle and your incredible stillness. Occasionally, that stillness was broken by the presence of your marvelous wildlife—lively penguins, sleek sea lions, stealthy orcas; and who can forget the glorious albatross. May you always remain pristine, elegantly dressed in snow and ice and regal in your beauty. I would hope to be able to see you again someday; but if not, you will always have a special place in my heart.
Fondly,
Elizabeth Karet
Thanks to: Elizabeth Karet, 14-time traveler and 4-time Vacation Ambassador from East Dorset, VT • Antarctica's White Wilderness
---
A Homecoming, Postponed
Dear Japan,
It's been sixty years since I walked the streets of Kyoto, watched your kimonoed people bow and pray in front of your temples, and strolled your lovely serene gardens.
Now I am taking my two daughters who were born there and their brother and sister back to see the land of their birth.
Our trip has been postponed until 2021 and I am now 84, but I will live to make this trip next year, God willing.
Elaine Crigler
Thanks to: Elaine Crigler from Emerald Isle, NC, who we hope to welcome on Japan's Cultural Treasures in 2021.
---
The Wonderful "Other"
Dearest Beautiful New Zealand,
We always wanted to travel to Australia and with our Grand Circle tour you were the "other" part. What a wonderful "other" you turned out to be. While we loved Australia, we absolutely LOVED you.
From your mountains to your waters and everything in between, you were glorious. I especially love your sheep!
I live in the United States and while I have never considered living in a different country, I have traveled all over the world and I would easily live in New Zealand. I have a small Chihuahua and have several times thought about training him to herd sheep so I could move there.
Our Election Day is today and, please New Zealand, if it does not go right...let me come. I will bring the only sheep herding Chihuahua you have ever seen and you will love him!
Ola Lee
Thanks to: Ola Lee, 2-time traveler and 2-time Vacation Ambassador from Boynton Beach, FL • Australia & New Zealand
---
You Have it All
Dear New Zealand,
Oh, how I miss you! Your beauty, your calm, your friendly and welcoming people. In just a day I could go from the beach to the mountains and to the glaciers. Never feeling rushed, savoring each sight, flowers and animals, old and new. My month there was just a snippet of what life would hold if I were a resident. The rhododendron that were huge dwarfing us in their presence. The Scotch broom adding color everywhere you looked. Highways well maintained, quaint villages, modern cities. You have it all! I miss you!
Thanks to: Debbie Bourbeau, 6-time traveler from Marlborough, CT
---
A Poem for Petra
You asked for a love letter to one of our favorite places visited. Here's a short clip from my travel poem when I visited Egypt and Jordan. Petra will always stay fondly in my memory.
At Petra we will spend our day;
I've seen the pictures on display.
Yet nothing could prepare us for
The grandeur that would lie in store.
To the siq I ride my horse;
Then on foot the tortuous course.
Sandstone cliffs—six hundred feet high—
Fantastic walls soar to the sky.
These other-worldly grand formations
Streaked with colorful striations,
Blues and greens, yellow, red, gold,
Wondrous shapes we would behold.
And as that final bend we take,
Time seems to stop…we stand agape.
The treasury—its ancient glories
Rising two colossal stories.
We stand in reverence at the view,
The mountain carved in stone's red hue.
We take our photos, one with group,
Then start our trek around the loop.
Here—eight hundred monuments
To tantalize each heightened sense.
The Nabataeans carved these forms
And built trenches to control storms.
As we absorbed each new sensation,
We had some pleasant conversation
With native Bedouins, school girls;
Hour after hour the site unfurls.
I want to see the monastery;
Nine hundred steps up makes me wary.
Takes too much time; but we're no fools—
We hop aboard some trusty mules.
A scary ride, I hang on tight,
Then disembarked when near the site,
And walked the steps rest of the way;
Glad that I made this trek today.
Remote—not quite as well preserved—
But reputation well deserved.
Towering columns—powerful—
Inside I feel their timeless pull.
I craned my neck and stood in awe
Of all I sensed, and felt, and saw.
Then we went off with the gang
To stand close to the overhang.
The panoramic splendor here
Is something I will long hold dear.
The interplay of shadow, light,
On craggy mountains soaring height,
The murky gorges, and shear drop,
Made this my favorite photo op.
Thanks to: Marie Guzman, 9-time traveler from Greendale, WI • Egypt & the Eternal Nile by Private, Classic River Yacht
---
Our Segunda Patria
A letter to Panama:
On a recent trip a Panamanian friend said, "Panama es su segunda patria" or "Panama is your second country." We feel that way after serving as Peace Corps Volunteers in Panama for almost three years and returning to visit 10 times. Over those years we have traveled to just about every corner of the country.
Our most recent visit to Panama in February of 2020 was an O.A.T. tour: A Continent Divided, Oceans United. We called it our "Farewell Tour" because it may be our last and it celebrated 50 years since we left the country as Peace Corps Volunteers. We chose a tour because it would be more relaxing than traveling on our own. As 16-time O.A.T. travelers, we didn't consider any other company. Our trip leader was excellent and the trip exceeded our expectations. We learned historical and current information about Panama, visited both familiar and new places, and thoroughly enjoyed the trip. Highlights included seeing the resplendent quetzal bird, viewing the new locks of the canal, visiting artisans in their workplaces, preparing a meal in a country home, and dancing the typical Panamanian dance. The experiences on the Azuero Peninsula brought tears to our eyes as these were our memories of Panama.
We took advantage of O.A.T.'s break-away travel and added a week to our stay. It was emotional to visit the people in our Peace Corps village and attend a mini-Peace Corps reunion. The country and the people have a special place in our hearts. Panama is truly our "segunda patria."
Nancy & Chuck Sweetman
Thanks to: Nancy & Chuck Sweetman, 17-time travelers and 3-time Vacation Ambassadors from Mason City, IA • Panama Canal Cruise & Panama: A Continent Divided, Oceans United
---
Forever in My Heart
Our trip to Tanzania with OAT was wonderful in so many ways.... the amazing animals, the kind natives and the spectacular vistas of uninhabited countryside. Our guides were so knowledgeable and always found the animals we were anxious to see.
Our tent accommodations were comfortable and the food delicious. I hope to return and see Southern Africa but Tanzania will remain forever in my heart.
Thanks to: Kathy Coughlin, 10-time traveler and 4-time Vacation Ambassador from Pittsboro, NC • Safari Serengeti: Tanzania Lodge & Tented Safari
---
You don't need to wait for a new Question of the Month to tell us a story. Email us any time at [email protected] To read more stories from your fellow travelers, check out our archive of Traveler Insights from previous editions of The Inside Scoop.
See the answers to previous Questions of the Month here.
You're receiving this message because your web browser
is no longer supported
We recommend upgrading your browser—simply click the button below and follow the instructions that will appear. Updating will allow you to accept Terms and Conditions, make online payments, read our itineraries, and view Dates and Prices.
To get the best experience on our website, please consider using:
Safari (for Mac or iPad Devices)
Update Browser