Question of the Month: March
What's your favorite tool or tactic to engage locals in conversation?
From learning a few words in another language to bringing an item from home, our travelers know how to break the ice with locals during their adventures. Here are some of our favorite tactics you can try for engaging with locals on your next trip.
Bubbles & Binoculars
I love the children and find my binoculars work as a fantastic bridge to communication. They are always intrigued by what they see and I have had many smiles and giggles as we share this experience. So simple, so wonderful!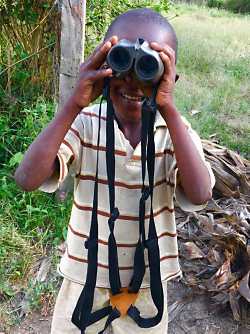 BUBBLES! I love bubbles! When meeting children, I love to have bubbles instead of toys or candy which might encourage begging. Those little vials that they sell for weddings work perfectly. These children in the Amazon Wilds of Ecuador loved their first bubble experience while our group enjoyed fish wrapped in banana leaves and watched the locals eating grubs, a delicacy which we found a little creepy. The bubbles were such fun!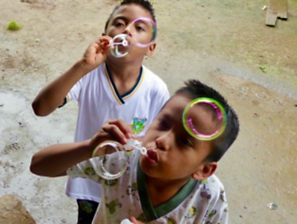 Thanks to: Nancy Harwood, 13-time traveler from East Lyme, CT • The Best of Kenya and Tanzania and Ultimate Galapagos & Ecuador's Amazon Wilds
---
Vote of Thanks
I was in Jordan at a rest area on the way to Petra. I was walking by a table with a gentleman and his family. He looked at me and said "Obama." I stopped and said, yes, that was my President. He asked me to sit down with his family and offered me a Pepsi. We tried to communicate, but all we did was a lot of hand signaling. I got our guide to come over and help me figure out what he was telling me. He was on his way to vote in what seemed to be his first time and was so proud! I also carry a small photo album with pictures of my family and home. I find this is a great ice breaker when meeting our hosts in the countries I have visited.
Thanks to: Karen Miller, 6-time traveler and 1-time Vacation Ambassador from Hickory, NC
---
Crafting Connections
I always travel with needlework, embroidery or knitting. I am a bit shy, but if I sit and knit or embroider, people are curious. People who share a craft have an instant rapport which doesn't require a common language.
In 2006 on the Yangtze River Cruise, I met a woman who was embroidering with silk. I traded her a cross stitch kit for some silk and silk threads. A street vendor in Marrakech showed me how he crocheted his hats and I showed him how I knit a sock.
I have had many small adventures seeking out local wools in Peru, Nepal, and Tibet among others. A Buddhist tapestry kit from Ulaanbaatar, a sampler pattern from Amsterdam and ultra-thin knitting needles from Gyantse are lasting souvenirs of the interactions I have had with vendors.
Thanks to: Victoria Bergesen, 20-time traveler from Beaufort, SC
---
Quack, Quack
My husband and I love to ask people in other lands what sound does their animals make, i.e., cow, rooster, turkey, etc. This always makes for some hilarious fun for them to hear ours and for us to hear theirs.
Thanks to: Jan Tomlinson, first-time traveler from Scotts Valley, CA
---
A Few Simple Words
Because of an article I read decades ago, I always learn how to say very simple, but polite things: Hello, please, thank you, water, beer, wine, and a couple of other words such as hotel and bathroom.
Whenever I meet a local and have a question or want to talk about anything, I say "Hello" in their language and then "English" or its equivalent in their language. If they shake their heads "No" then I smile and say "Thank you" in their language.
I can get around clumsily in Spanish and speak a little German and very little Italian. In these countries I can usually get by in pidgin. If they are better in English than I am in their language, which is usually the case, we can have a passable conversation.
Thanks to: Philip Peterson, 12-time traveler and 4-time Vacation Ambassador from Oregon, WI
---
Quilting a Conversation
I am a quilter and an introvert. I find it hard to initiate conversation. I take some handiwork on most trips. When sitting in a hotel lobby or sailing on a river cruise in the ship's lounge, travelers come up to me and start a conversation by asking about my work. Many are also crafters who then share pictures of their work with me from phones or tablets. Below is some of the work I finished after taking some pieces on my trip. I also make a tote with fabric depicting my home area for the Home Hosted Meal.
Thanks to: Sandra Koubek, 17-time traveler and 1-time Vacation Ambassador from Rockville, MD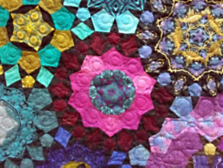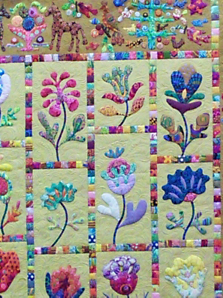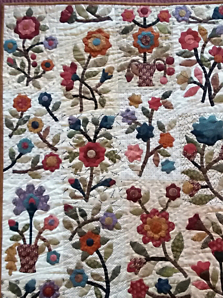 ---
The Simple Gift of Slap Bracelets
I love talking to locals, and always prep for my travels by learning a few key words and phrases in the language of the country I am visiting.
It's easy to engage people, particularly if they have children in tow. I learned from a fellow traveler about "slap bracelets". They're bright colored, inexpensive, and can be purchased in boxed quantities. I always pack a healthy supply. When I approach a group, I show the child/children how they work on me, and then offer to apply them to the child to keep as a gift. They make a great icebreaker, and a simple, friendly gesture of goodwill. It's the simple things that bring us together!
Thanks to: Nancy McFaul, 12-time traveler and 2-time Vacation Ambassador from Lakewood Ranch, FL
---
Mustache Madness
You asked about what we use while traveling to engage others in conversation—for us it's my husband's moustache! People all over the world have burst into smiles, and have called him everything from Ali Baba to King Farouk to Maharajah! It definitely draws people in, and we end up having a good laugh together.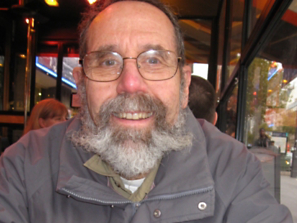 Thanks to: Marilyn & John Nelson, 8-time travelers from Eugene, OR
---
More Alike Than Different
I find that there is no one way. Sometimes a smile and a question is enough to get most people talking. Sometimes a compliment starts the conversation. As a small woman, people do not feel threatened so my responses are usually cordial and helps me to feel a part of the country. It also confirms, no matter what country or part of the world, we are more alike than different. I hope that in each conversation, I leave the impression that people from the USA are okay and have similar goals as they have.
Thanks to: Gerry Blandina, 15-time traveler and 1-time Vacation Ambassador from Pembroke Pines, FL
---
Balloon Bonanza
I always take balloons with me. Especially in developing countries, I look for children and blow up a balloon and give it to them. It is like a magnet! Before I know it, I am surrounded by kids and everyone gets a brightly colored balloon. Some of the bigger ones want to blow them up themselves. We laugh and play together. Very soon the parents see what is happening. They realize that I don't want anything from them, but just want to share my time with them. In Myanmar, this actually led to being invited into a home. Our trip leader was with us to translate. We ended up meeting the whole family, including the cigar smoking grandma who was about my age. Even though I don't smoke, she gave me one of her homemade cigars to take with me. It was one of my favorite O.A.T. adventures!
Thanks to: Carol Stolenberg, 5-time traveler from Omaha, NE
---
The Magic of Music
Smiling, gentle eye contact & acting shy.
In Peru, I gave a classroom of rural 3-mile-walk-to-school elementary students a harmonica! They had not seen one before, so I blew on it, played a tune.
Magic!
Thanks to: Barbara Whorton, 2-time traveler from Bethany Beach, DE • Real Affordable Peru
---
You don't need to wait for a new Question of the Month to tell us a story. Email us any time at [email protected]. To read more stories from your fellow travelers, check out our archive of Traveler Insights from previous editions of The Inside Scoop.
See the answers to previous Questions of the Month here.