Question of the Month: July
If you could travel anywhere in the world right now, where would it be, and what would you do?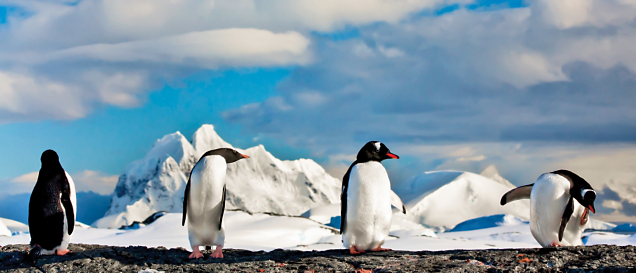 While we wait for the time when we can make our dreams a reality, we asked our readers what destinations were at the top of their wish lists.
Charms of the Czech Republic
If I could travel anywhere in the world, it would be to Prague and small villages in the Czech Republic. I love the middle ages atmosphere of some of the small villages and the architecture of the castles and cathedrals. I would visit the many friends we have met over the last 24 years by working with international students at our local university. It is amazing to meet their families and to keep in touch.
Thanks to: Liz Beikmann, first-time traveler from Manhattan, KS ● Jewels of Bohemia: Czech Republic, Slovakia & Hungary
---
Another Adventure in Peru
I want to return to Peru, especially Cuzco. It was the most incredible experience by far that I have had and I am a 12-time traveler with O.A.T. and Grand Circle.
Climbing Machu Picchu was on my bucket list for such a long time and the only reason I wanted to go. But once there, I also became intrigued not only with Machu Picchu but also enamored with its people —the friendliest and hospitable people you could ever meet.
I found the Indigenous people to be so colorful and so impressive—learning about their Incan Empire history, their traditions, and their foods made my trip all so much more memorable.
Of course, all those wondrous sights, aside from my bucket list incredible and mystical Machu Picchu, were also so utterly jaw-dropping and awe inspiring.
A shout out to the Trip Leader on my trip, Walter (Salvador) Torres, who made my Peru experience the ultimate one. Walter's kindness, his thoughtfulness, his caring for each person on the trip was exceptional.
Leaving Cuzco was so very sad for me because I so enjoyed the mix of Incan and Spanish influences that defined it. I enjoyed meeting all these people, even speaking my so limited Quechua to them and seeing the joy and huge smiles on their faces when they understood me.
I so relished trying new and delicious Peruvian specialties. I enjoyed my trip to Peru and after one year can't stop thinking about its incredible, friendly, hospitable peoples, their customs and traditions. I would dearly love to return to it someday.
BTW—The altitude had no effect on me. I was quite fortunate.
Thanks to: Maria Sullivan, 12-time traveler from Lukeville, AZ ● Real Affordable Peru
---
Unwinding in Iceland
I would go to Iceland and the Blue Lagoon Spa!
Thanks to: Phyllis Breen from Magnolia, DE who we hope to welcome on her first trip soon ● Untamed Iceland
---
Dancing Through Brazil
Someday while I'm still able to travel, I'd love to travel to Brazil, with Iguazu falls, and Christ the Redeemer. And a little dancing, too.
Thanks to: Patricia Mccloud from Boston, MA who we hope to welcome on her first trip soon
---
Anything, Anywhere, Although....
On a horse, on a camel
In a cart, on a dibaya.
I would go.
Take a plane, take a ship,
Take a donkey, take a bike.
I would go.
To see people, to eat tapas,
To fly balloons, to climb mountains.
I would go.
But if I could go anywhere?
If I could do anything?
I want to sleep in an ice house in Finland.
And watch the northern lights.
I've grown accustomed to the quiet.
Yet I want to go far from the noise.
Nature's icy beauty,
People's quiet work.
Snow white and pristine.
And I want to breathe deeply
Cold, clear, virus free air.

Thanks to: Natalie Fulwider, 3-time traveler from Apex, NC
---
Once in a Lifetime Trip to Antarctica
I hate cold, and I hate ice and snow. Notwithstanding, as incongruous as it seems, my dream would be a trip to Antarctica. I would like to sail the Straights of Magellan and to land on the Ross Ice Shelf. This would have to be a solo as wife Jeannie states categorically that she will not go. Even so, I would like to go all the way south in Patagonia and to see the southern tip of Chile and Argentina. I would like to see the penguins and other wildlife in their natural surroundings. And what would be the cap for this madcap adventure? I would like to ride a bicycle on the Ross Ice shelf. I'm sure no one else has ever done that!
Thanks to: Ron Reafs, 2-time traveler from Sacremento, CA ● Antarctica's White Wilderness
---
Prague Dreams
I would stand on the river bridge in Prague and watch the world go by!
Thanks to: Pat Nelson, 7-time traveler from 3-time Vacation Ambassador from Durham, NC ● Jewels of Bohemia: Czech Republic, Slovakia & Hungary
---
Peacefulness of Earth
What a great question. I would go back to Antarctica as quickly as possible and listen to the quiet. I found such peace there; a sense of real belonging to and with the earth. If I weren't 82 and had a real scientific background, I'd really love to stay there for a while.
I'm looking forward to my two 2021 trips (hopefully): Scotland and Ethiopia.
Thanks to: Elizabeth Karet, 14-time traveler and 4-time Vacation Ambassador from East Dorset, VT
---
Adventure Around the World
I would like to fly to South America and spend several days in a hotel that looked out at the mountains of Torres del Paine. Then I'd fly to South Africa and spend time at Victoria Falls and River Safaris. I'd fly to Sydney for a few days with tickets to the Opera House and then go to New Zealand by small ship to take in the natural history.
Thanks to: Lincoln Hodgin, 7-time traveler from Port Hueneme, CA
---
Looking Forward to Jordan
The sight I most wanted to see in my life was Machu Picchu, which I saw on my first O.A.T. trip (the sight brought tears to my eyes). The second one on my list is Petra in Jordan, which I hopefully will see on my next scheduled O.A.T. trip (our 12th) in 2021. If I could travel anywhere else after that, I would most like to go to Madagascar to tour their National Parks, see lemurs and baobab trees and the Tsingy pinnacles, tour the Royal Hill of Ambohimanga, and explore their beaches and offshore small islands, including pirate shipwreck viewing, kayaking, and snorkeling.
Thanks to: Beth Groundwater, 11-time traveler and 2-time Vacation Ambassador from Breckenridge, CO ● Real Affordable Peru & Suez Canal Crossing: Israel, Egypt, Jordan & the Red Sea
---
Irish Roots
I'd return to Ireland to ground my center and de-stress from all that is going on in my family and the world. I'm just a tiny bit Irish and I feel my roots there.
Thanks to: Janice Nolte, 2-time traveler from Cedarburg, WI ● Irish Adventure: Dublin, Belfast & the Northwest Counties
---
Amazing Madagascar
I would go to Madagascar! It is someplace out of the way with amazing things to see. The lemurs!! The birdlife! The plants! The geology! It is like nowhere else on earth. I'd want to go right away because they are having environmental issues with deforestation.
I want to see the island as it is. I want to experience the amazing ecology of the place.
It seems the most exotic place on earth.
Thanks to: Claudia Freitas, 5-time traveler and 4-time Vacation Ambassador from Atascadero, CA
---
Another Opportunity for Madeira
A wonderful place to travel to at this time I think would be to the Madeira Islands. It's a beautiful place, with a great climate, and most importantly has had no deaths from the virus and one of the lowest infection rates in Europe. We spent a week there several years ago and fell in love with it. We had flown there from Lisbon on Tap airlines and were told at the time we could get direct flights from the States at certain times of the year and have thought about doing it in January or February, but never got around to it. I don't suppose there are any flights from the U.S. now. Oh well—maybe when this all is over. The only problem is that I'm 91 and my husband is 89.
P.S. We've taken quite a few O.A.T. tours, and really enjoyed every one.
Thanks to: Mary and Robert Barnett, 8-time travelers from Aiken, SC ● New! The Azores & Madeira: Portugal's Unspoiled Archipelagos
---
Safari in Southern Africa
I would travel to South Africa and spend a week in Capetown and overnight in Krueger Park. I would take an extra two weeks in Zimbabwe and Botswana and overnight on the Zambesi River, maybe more than 1 night!
Thanks to: Nancy Coble from Greensboro NC who we hope to welcome on her first trip soon ● New! South Africa & Eswatini: Kruger National Park, the Garden Route & Cape Town
---
If I could travel safely anywhere in the world, it would be the O.A.T. trip to Vietnam.
Thanks to: Caitlin Sullivan, 4-time traveler from Portland, ME ● Inside Vietnam
---
You don't need to wait for a new Question of the Month to tell us a story. Email us any time at [email protected]. To read more stories from your fellow travelers, check out our archive of Traveler Insights from previous editions of The Inside Scoop.
See the answers to previous Questions of the Month here.