Question of the Month: December
Have you had a memorable experience in your travels communicating without words?
Posted on 12/26/2017 12:00:00 AM in Question of the Month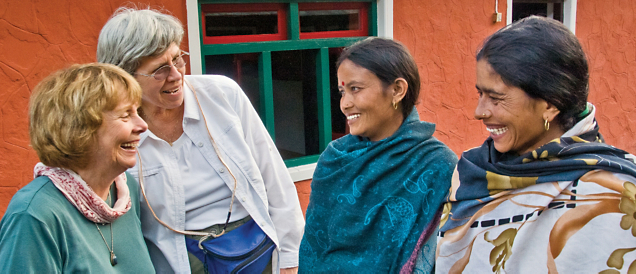 You don't need to let the lack of a common language prevent you from interacting with locals, as these travelers discovered during Nepal & the Mystical Himalayas.
It would be wonderful to learn the language of every country we visit—but for most of us, the reality is that we barely learn enough to get by. Fortunately, language barriers often result in memorable interactions with locals. We asked our readers to share their stories—and these are just some of our favorite responses.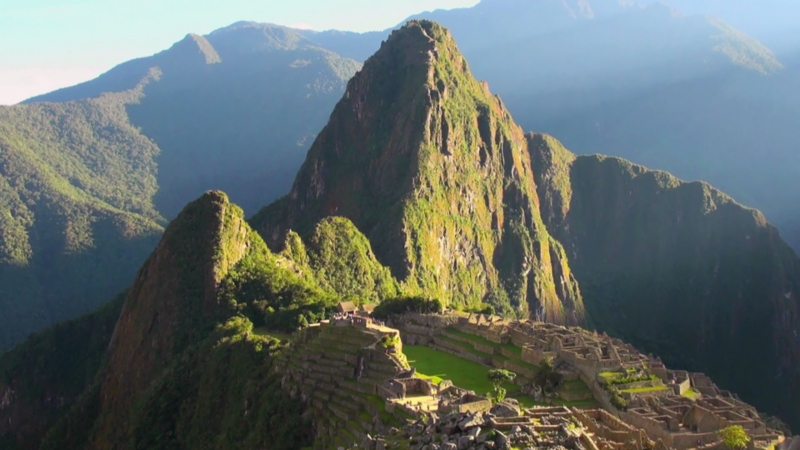 Explore the Amazon during an optional pre-trip extension of
Machu Picchu & the Galápagos.
Sometimes the Way Down is Harder
While on a trip to the Amazon in 2005, I had a wonderful experience when we went down the river to a settlement on a very steep hill (I would call it a mountain!). I was recovering from a knee replacement three months earlier and was fine getting up the steep hill. After spending a wonderful hour or so with a young girl who was substituting for the teacher that day (and amazed at her ability to communicate with us without our verbal communication, just gestures and laughing!), it was time for us to go back down to the river and continue our adventure.
I peered down the hill and realized I could not get down on my own. She read my consternation on my face, turned her back to the hill (mountain), took my hands, and proceeded to walk me down the hill, smiling all the time. When we got to the bottom she hugged me. I then took off the earrings I had on—I had noticed she, too, had pierced ears—gave them to her, and returned her hug! What more can we say about the universality of warmth and communication?
Thanks to: Rita G., 15-time traveler & 11-time Vacation Ambassador from New York, NY • Machu Picchu & the Galápagos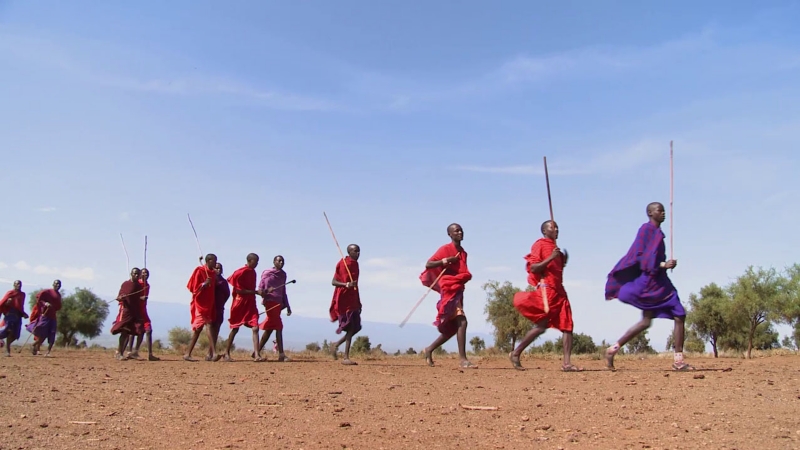 Experience tribal cultures when you join O.A.T. for
The Best of Kenya & Tanzania
.
That's What It's All About
One of our visits in Tanzania was to the home of a family of the Datoga tribe. The four young wives, a mother-in law, the husband, and four or five children all live together in a small wood, dung, and mud house, and were all very welcoming. As we prepared to say our goodbyes and leave, our group decided to thank them with a song. The only one we knew as a group and had used at a school visit (with success!) was the Hokey Pokey, which our newfound audience absolutely loved and started doing with us! Their children were having a hilarious time, too. Kwardo, the local guide, was in stitches. The husband of the wives, who had appeared somewhat bored with our visit, suddenly came alive with laughter! It was one of those magical moments of connecting with other human beings, whose language we did not know, whose customs we did not share—and how we could all communicate so beautifully together through laughter and music.
Thanks to: Patricia L., 9-time traveler & 5-time Vacation Ambassador from Fresno, CA • The Best of Kenya & Tanzania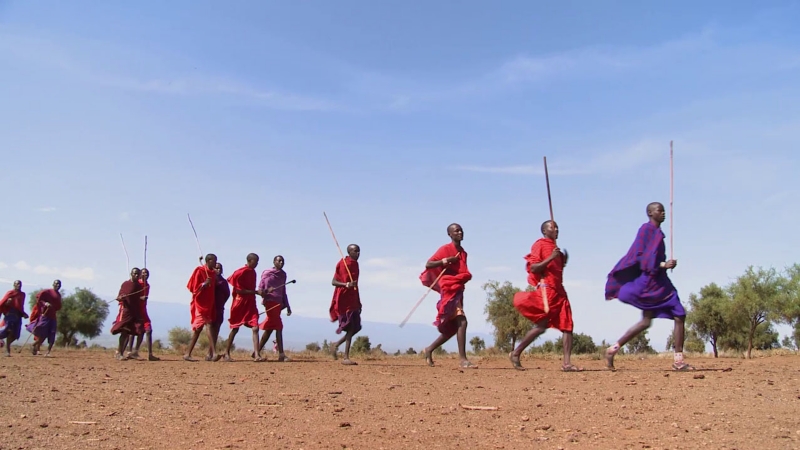 Discover both the wildlife and culture of
Rwanda
during an optional post-trip extension of
The Best of Kenya & Tanzania
.
We Are All Ambassadors
On my travels to East Africa and the post-trip extension to Rwanda, I had an amazing experience.
We had finished our trek up to see the Agasha group of gorilla. I still find it difficult to put that experience into words. What a blessing!
As we were descending, there was an encounter with three elderly women who had been working in the fields, now sitting and taking a much-needed rest.
When they were to be photographed without having been asked, or granting their permission, (yes, we should all know better) they became angry and started to yell.
Our guide said they didn't want their photo taken. I asked him if the problem was about money, and he said, "no."
I was at the rear of our trekking group, and these ladies were still yelling. Even though I hadn't caused the problem, I felt concerned for their anger. We are ambassadors and should act accordingly.
One woman had a cross hanging around her neck. As I got near I called, "mama, mama," and held up my cross from around my neck. Once I had her attention, and the yelling had stopped, I placed my hands flat together in prayer and she did the same and even smiled a bit.
As we walked away, our guide said she said, "God bless you."
Thanks to: Linda B., 4-time traveler from Aliso Viejo, CA • The Best of Kenya & Tanzania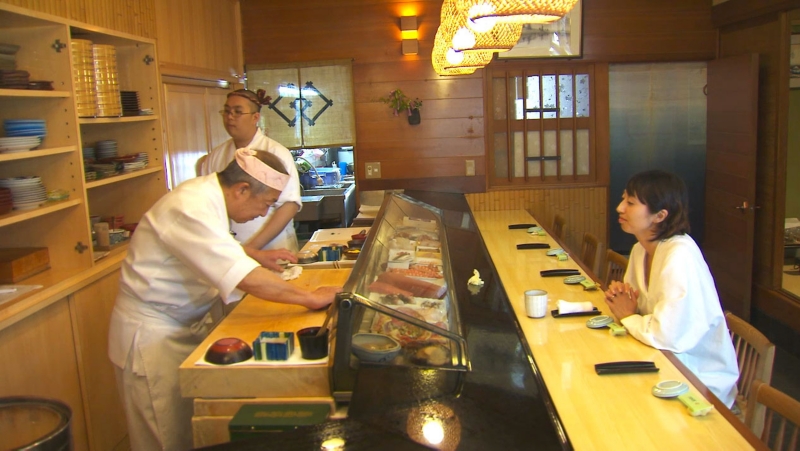 Meet the people of Japan when you join O.A.T. for
Japan's Cultural Treasures
.
Pleased to Meat You
On a trip to Japan, I met a wonderful woman and we became friends while I practiced my Japanese and she perfected her English. She was telling me about her daughter's new boyfriend. They were a happy young couple who had found love because they were both avid vegetarians. I asked my new friend, "How did they meet?" She coyly answered, "No meat, vegetarians."
Thanks to: Joyce B., 20-time traveler from Denver, CO
Matchmakers
After many Grand Circle and O.A.T. adventures with little problem communicating with the wonderful local people, I found myself in big trouble. It happened in Turkey at a home-hosted lunch in the country. Usually a common denominator with everyone is family. After admiring the photos of the children and grandchildren of our hostess, I showed a photo of my 12 grandchildren. The hostess became very animated as she pointed to a photo of my 10 year-old grandson, Simon. She then excitedly pointed to a photo of her little granddaughter. Back and forth she pointed to our two grandchildren. I could not understand a word she was saying. Fortunately our Program Director was with us, and smiled as he translated that the woman was arranging a marriage between our grandchildren. I jokingly nodded yes, and I believe she took me seriously. I became her new best friend, and as we left her home she picked a bouquet of flowers from her garden and handed it to me. This sealed the deal.
As a sidebar, instead of my grandson marrying her granddaughter, my daughter married a wonderful man from Turkey. In a way the friendliness and warmth of the Turkish woman has prepared me to embrace my son-in-law.
Thanks to: Nancy K., 22-time traveler from Perrysburg, OH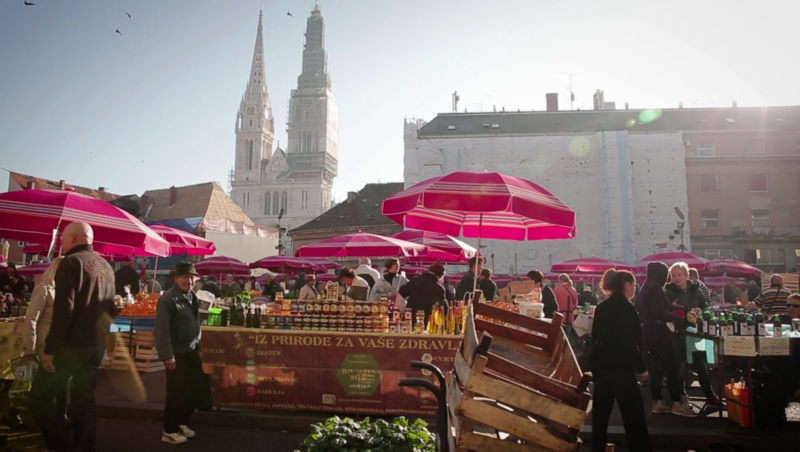 Have an easier time ordering breakfast in the former Yugoslavia during
Crossroads of the Adriatic
.
It's Over Easy
Years ago, when we were camping our way through (then) Yugoslavia and Greece, facilities along the way were not accustomed to American visitors. We were spending the night in a local park and walked into the adjacent small Greek town for breakfast. The hand-written menu was of course Greek to us, and no one spoke any English. So I drew a picture of a clock with five minutes illustrated, a chicken, and an arrow from the chicken to two eggs. A sketch of steaming toast completed the order.
The waiter was delighted and showed the picture to all of the customers who laughed heartily. Then the waiter beckoned for us to leave and, puzzled, we followed him out the door. He guided us to a nearby restaurant, gave them our picture, and we received prompt service. The new waiter gestured by pointing and shaking his head that the other establishment didn't serve eggs.
Thanks to:
Lambert & Inge W., 20-time travelers & 4-time Vacation Ambassadors from Salem, OR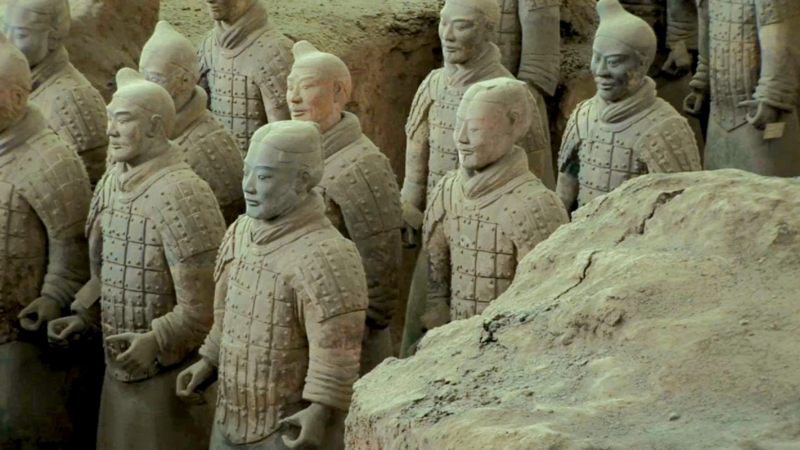 Explore the remote enclave of Tibet during
Imperial China, Tibet & the Yangtze River
.
No Words Needed
My husband and I had a free afternoon in Lhasa, Tibet in 2005. While wandering around the streets, we noticed a little boy licking his dripping ice cream cone. We followed him through a small empty field surrounded by apartment buildings to an abandoned rundown house with a few women lounging on the front porch. The boy's mother and then two other women came out to greet us, and we began what turned into a 20-minute "conversation" conducted entirely in our mutually devised sign language. We "discussed" our children and grandchildren, everyone's names and ages (including ours, which seemed to be of great importance to them), where we lived, what we like to eat, and so on. They insisted on our taking their pictures with us, of course. When we turned to leave, they invited us to their apartment around the corner for tea and more "conversation." This was truly one of the most memorable experiences in my many travels with O.A.T. and encouraged me to engage in other such non-verbal exchanges in other cultures.
Thanks to: Connie A., 20-time traveler & 9-time Vacation Ambassador from Pinehurst, NC • Imperial China, Tibet & the Yangtze River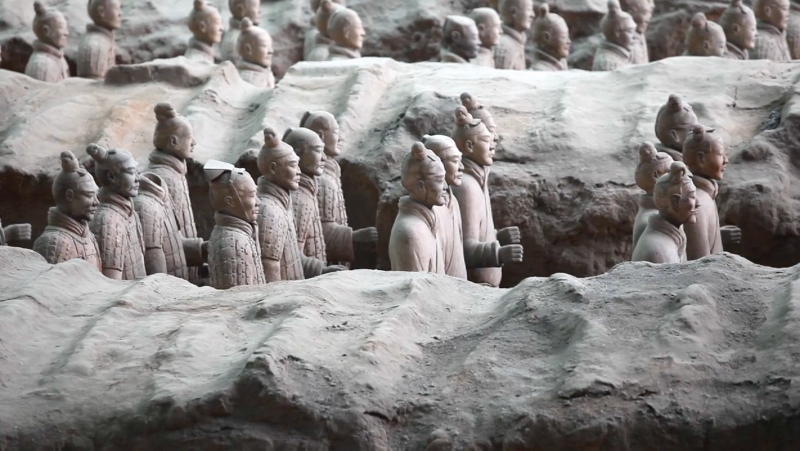 Don't forget your hat when you join Grand Circle for
China & the Yangtze River
.
Accessorizing in China
It happened several years ago on a Grand Circle trip to China. A few days after arrival I realized I left home without a hat ... which as listed as a necessary item in the brochure, especially for the cruise. I went with my friends to a nearby "mall" and with the first salesgirl we saw, I mimed putting on a hat. She smiled, indicated we should follow her, and she kindly led us to the wig department.
Thanks to: Pamela C., 3-time traveler & 3-time Vacation Ambassador from Sarasota, FL • China & the Yangtze River
I always travel with several pairs of new still-on-the-card pierced earrings. They are small to pack and make a wonderful spur of the moment gift. I have left earrings with girls and women all over the world. On our Grand Circle trip to China, I was walking on the Great Wall when I spotted a young Chinese woman sitting by herself. I sat down on the wall beside her and we proceeded to communicate through smiles and gestures and just sitting together in a quiet and friendly manner as she spoke no American English and I spoke not a word of Chinese. We sat together for about ten minutes and I noticed that she had pierced ears. I pulled out a lovely pair of earrings, and gestured to my ears then hers. I gave her the earrings and we exchanged a big hug. I wonder if she still has the earrings? I certainly still treasure the memory.
Thanks to: Gay T., 6-time traveler & 9-time Vacation Ambassador from Fort Bragg, CA • China & the Yangtze River
An Unlikely Taste of Home
Your question about language barrier reminds me of the irony of a chance encounter I had while hiking in southeastern France. Our group stopped at a small restaurant perched high up in that mountainous region. While perusing the menu at a table set out in the patio of the eatery, I saw the familiar fare of pho (a Vietnamese staple). As I was saying to myself, "It can't be THAT pho...," I noticed an old woman entering the restaurant, dressed in familiar black pants and white top, hair pulled back in a bun behind her nape, projecting a classic, unmistakable image of a Vietnamese woman, especially one from the countryside.
After gathering up my nerve, I went inside the restaurant searching for her. I met the waiter who took my order a while ago. His race was a bit hard to decipher, with his dark skin and unusual facial features. When I asked about that woman, he told me that she was his mother and she was upstairs. I went up and met her in the kitchen. From past experience, I've learned not to offend someone from my native country by speaking in a foreign language. So I spoke to her in my halting Vietnamese. She replied, in imperfect French, that she can understand my Vietnamese well but cannot reply in her native language, as she hadn't spoken it in over 50 years. For me, up to that time, I'd stopped learning French 30 years ago and had never spoken it in 40 years while learning it. But, somehow, in two different languages, we carried out a conversation for a good five minutes, which turned out to last forever in my memory.
Thanks to: Thuy A., 5-time traveler from Carrollton, TX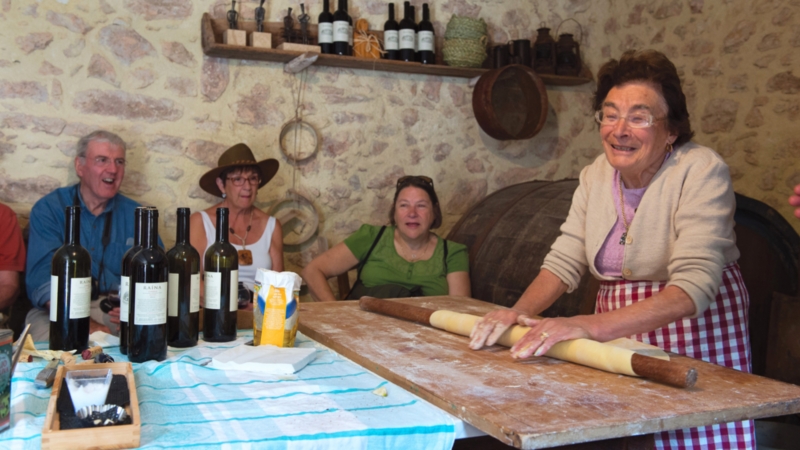 Perhaps you'll make friends with the local butcher during
Tuscany & Umbria
.
Butcher's Intuition
On a family trip to Italy with my sister and her husband—in a camper van (another story there)—we ladies were the daily food buyers. My sister has a better memory for words needed in Italian, but we both were left with pantomime as a communication tool when buying sliced meat in the wonderful meat markets. We could not figure out the metric weight for about ten slices of salami, so we stood in front of the butcher and pretended to be using a knife to slice! Every market, every butcher, knew right away what we were doing, and would just laugh and slice off what we indicated. Bless the Italian butchers!
Thanks to: Marion D., 8-time traveler from Tempe, AZ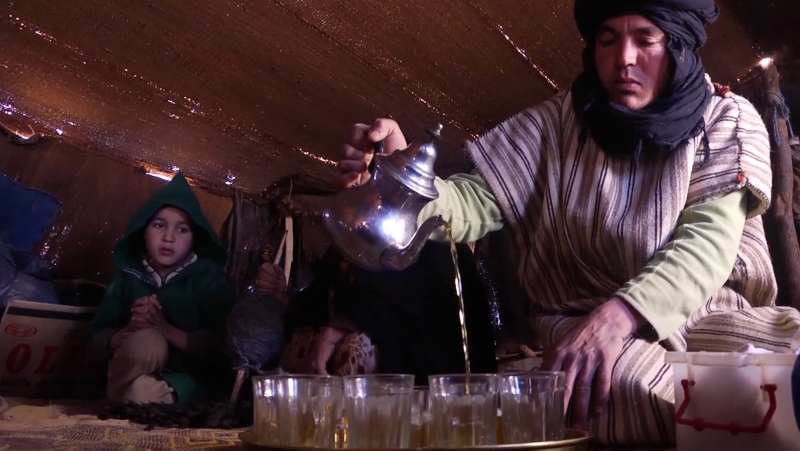 Be careful with your hand gestures during
Morocco Sahara Odyssey
.
Not for Sale
My wife and I were at a homestay in Fez, Morocco, with a couple who knew no English and we knew no Arabic. We wanted to buy a baby gift for a native who was teaching our students (we were leaders on a term abroad) and tried to convey that with gestures (pretending to receive a baby being born and then gesturing the giving of a gift). They looked horrified and indicated firmly that that was impossible. They thought we wanted to buy a baby! We eventually clarified that, and they gestured putting money into an envelope—in Morocco, you give new parents some cash.
Thanks to: Ed L., soon-to-be first-time O.A.T. traveler from Northfield, MN
Stop in Cologne and meet the German people during
The Great Rivers of Europe
.
Stitching Together
I was in Germany on a train to visit the Cologne Cathedral. Traveling alone, I was seated in a closed seating space for four passengers. There was one other lady sitting in this space, knitting, who looked up and smiled. I smiled back and said in English, "Hello." She then looked up, smiled again, and said some German words. She went back to knitting.
Being an amateur knitter myself, I watched and realized she was been making a beautiful quilt with a very intriguing pattern. She noticed I was watching and asked something in German. I laughed and in English, with a nod of my head, said, "Yes, I knit, but this is a very special stitch you are doing." I kind of wiggled my fingers. She stopped knitting and just looked at me. Then she tapped the seat next to her, signaled me to sit there and without a single word, reached into her knitting bag, got out more yarn and needles, and by the time the train stopped an hour-and-a-half later, I had learned from her how to do this very beautiful knitting pattern, and had a little piece completed that was the size of a coaster that she let me keep!
Did I ask questions? Yes! Did she answer? Yes! Did we understand each other? Absolutely not! When I turned to leave I began to cry. I looked back again at her and she also had tears in her eyes. We stood up then and we hugged. I stepped off the train and stood awhile in that one spot feeling a very odd sense of loss as the train moved on. I put my little coaster in my purse and brought it back home in the U.S.
Thanks to: Cassandra M. from Beverly Hills, MI, who we hope to welcome on her first trip soon!
Are We Speaking the Same Language?
I was traveling to Bombay (now Mumbai), India on computer business in the late 70s. I arrived at my hotel after a 24-hour flight and was told my room was not ready, at 3:30pm! It would be another hour, they said.
So I sat down in the lobby and fell asleep. Soon I was awakened by high-pitched voices and yelling at the check-in desk. Since I couldn't sleep any more, I went over to watch. There was a German, an Asian, and a Russian all arguing at the Indian behind the counter. I listened and listened and finally figured out what the problem was.
Nobody could understand anybody!
I had no problem understanding everyone as they were all speaking English.
It was truly a hilarious and memorable moment in my life. I spoke up rather loudly, and said, "Excuse me, may I help you all?"
Silence!
I then "translated" what each person was saying, until everyone got their messages and each went on their way.
"So," you ask?
I do not speak German, Chinese, or Russian ... only English!
The hilarious part is each person's accent was so strong that no one (but me) could recognize what the others were saying! When I repeated each of their words in clear California style English, all went well. Of course there were many little changes I had to make along the way, especially with past, present, and future tense, etc.
It all took about 20 minutes but guess what?
The clerk was so thankful, I got my room right away!
Thanks to: D.A. D. from Camarillo, CA, who we hope to welcome on his first trip soon!
You don't need to wait for a new Question of the Month to tell us a story. Email us any time at harriet@gct.com. To read more stories from your fellow travelers, check out our archive of Traveler Insights from previous editions of The Inside Scoop.
See the answers to previous Questions of the Month here.